*

Voted Best Of The Web~2007, 2008, 2009, 2010, 2011, 2012, 2013, 2014, 2015, 2016, 2017, 2018 For Patient Education And Medical Information

-Reaching out to over 12 MILLION and still going GP strong!

We are the one and only OFFICIAL Gastroparesis Awareness Organization since 2006
DO YOU HAVE GASTROPARESIS?

Gastroparesis Awareness Campaign Team
*NOW UP AND RUNNING*

FREE YOURSELF...MY JOURNEY...OUR JOURNEY

PLOG-Podcast Blog
Welcome to My-OUR journey right here in the country!
Sit back, take a load off your feet and grab a cup of Joe, a glass of wine or your favorite beverage!
FREE YOURSELF... MY-OUR JOURNEY
Is about teaching others around the world the gift of Laughter when facing Pain & Adversity~
FREE YOURSELF... MY JOURNEY...
PLOG-Podcast Blog
*Download the Podbean app or follow us directly from your computer*
FREE YOURSELF... MY JOURNEY

Join over 2,102,003 readers!

*This blog will be transitioning over to the new site at the following link:
AMANDA SEYFRIED
Joins hands with the Gastroparesis Awareness Campaign Team helping to spread Gastroparesis Awareness!
Amanda Michelle Seyfried began her career as a child model when she was 11 and at 15 began her career as an actress, starting off with uncredited roles and moving on to recurring roles on As the World Turns and All My Children.

Amanda's newest blockbuster movie, "MAMMA MIA 2-Here We Go Again!" was a huge hit!
CONGRATS to Deena & Chris on the birth of their littlest Meatball...Christopher John, "CJ"
Jersey Shore... GTL TIME!
Gastroparesis Awareness Campaign magnetic car ribbons as the ones shown with Snooki & Deena now available for order and as always... FREE SHIPPING!

Send your request to us at: gpawarenessfund@yahoo.com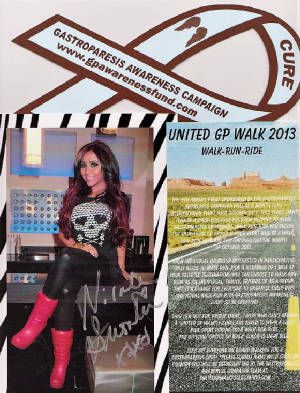 WOULD YOU LIKE TO SHARE YOUR GASTROPARESIS STORY WITH THE WORLD?
*The Gastroparesis Awareness Campaign would like to share your GP Journey in 2019*
We are looking for fellow Gastroparesis patients, family, friends and loved ones interested in sharing their GP Journey. Please submit your story with a bio photo:

GP JOURNEY 2019
Hi, my name is Elizabeth
A GP Survivor of 5 1/2 years
I started out as a single mom living in subsidized housing. I began getting so sick that I had no idea what was happening due to the pain and nausea. At one point, I ended up crawling from my bedroom to the bathroom as my daughter who was 1 1/2 at the time asked me if I was ok? I said, "Yes." My daughter said, "Ok mommy," and went back to watching television. Once again, the nausea became more intense, then all I remember was sweating so badly that my clothes became soaked. I couldn't breathe, let alone raise my head to throw up. I was naked on the floor and couldn't move due to being in so much pain. The pain became so bad that it felt as if my insides were going to rupture. As I began crying for help, cold and helpless. My daughter came to comfort me as she began rubbing my back while talking to me. I told her to grab mommies phone, but once she grabbed it, sure enough... It was dead. As my daughter began plugging in my phone in order to charge it, I was in and out of consciousness. I wasn't sure how long I had been on the bathroom floor.
I am lucky that my daughter was taught how to call for an ambulance since I had been on the bathroom floor for 2 days. My daughter used a chair to unlock and open the heavy apartment door for the paramedics. I am thankful for a good friend who quickly came to my side and helped care for my daughter as I was being rushed to the hospital. While on the way to the hospital. The paramedics had to start an IV due to being so weak and barely alert. I was so weak while laying on the hospital bed that I wasn't sure if I was dying. The hospital doctor came in and began talking to me as I explained that I wasn't sure what had happened. I got very sick and next thing I knew, I was in the hospital.
I was advised to see my family physician after being released from the hospital with medication to begin taking at home. The medication was suppose to help assist with my pain and nausea. I went to see my family physician and was then referred to a GI specialist. I had already lost 60 lbs in 2 months. The specialist did not think it was possible for me to lose so much weight in such a short amount of time. I began to explain how sick I had been with my stomach and that I needed to know what was happening to me. The GI specialist sent me for further testing, in which, it took them awhile to actually be able to diagnosis my condition. It wasn't until they ran a few tests on my stomach before quickly finding rice that had been sitting for 3 months. My GI specialist nor hospital technicians had never seen such a thing as the rice sat in my stomach rotting due to lack of stomach acid. I was quickly referred to a nuclear study so they could see how fast my stomach was emptying. After 90 minutes, I began throwing up everything so they sent me home. I was then released back to my GI specialist and finally given a diagnosis, "You have Gastroparesis."
They do not know the cause of my Gastroparesis. I now live on a very specific diet plan and medication that must be taken on a daily basis. The medication helps to relieve the stomach nausea and pain.
I struggle with finding hope and a cure for this awful disease. I still suffer on a daily basis and continue to lose weight. I have tried all the various medically recommended diets, but still look sickly.
I rely on Ensure to help give my body the much needed nutrients that are depleted due to my Gastroparesis. I have no immune system anymore due to my Gastroparesis. It takes me a very long time to rid any type of cold, flu or other viruses. I do receive medical injections to help with the rapid weight loss. I do my best to walk everyday when I'm not so sick. I enjoy feeling the suns warm rays and wind on my cheeks.
I thank God everyday that I am still here as I continue my long journey looking for a cure to this disease.
Elizabeth M
Need help getting started with the right counselor? If so we have your solution!
The Gastroparesisclinic.org offers FREE information and a 6-week psychologically-focused support program for individuals who live with Gastroparesis. The online treatment program brings together validated psychological treatments such as cognitive behavioral therapy and mindfulness therapy; both treatments have been shown to be effective in reducing the symptom severity and psychological distress associated with Gastroparesis.
The Gastroparesis Awareness Campaign is honored to join hands with the Royal Melbourne Hospital & Swinburne University of Technology located in Hawthorn Victoria, Australia by announcing their new online Gastroparesis-focused information and psychological support service.

Gastroparesisclinic.org
AVAILABLE ONLINE!
'The Gastroparesis Friendly Diet'
Helping those with Gastroparesis by providing better food choices!
*Created by Gastroparesis patients through years of food trial and error
-See left tab for more information
A Huge "SHOUT OUT!
Counts Kustoms-Counting Cars
Many, many thanks to Danny, Mike, Roli, Scott, Kevin & the entire crew at Counts Kustoms for honoring those who fight the great GP fight!
~KH-Founder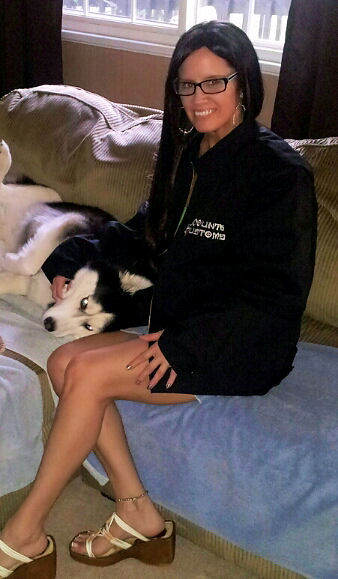 "JACKIE CHAN"
Joins the Gastroparesis Awareness Campaign Team!
Jackie Chan, (born Chan Kong-sang, 陳港生; 7 April 1954 in Hong Kong) is a Hong Kong actor, action choreographer, comedian, director, producer, martial artist, screenwriter, entrepreneur, singer, and stunt performer. In his movies, he is known for his acrobatic fighting style, comic timing, use of improvised weapons, and innovative stunts. He is one of the few actors that did all of his stunts in all of his films. Jackie Chan has been acting since the 1960s and has appeared in over 150 films.
Jason Lively & Cast
Helping to raise GP Awareness & Education
Gastroparesis guest speakers available for special events.
For further information please send offline requests to:
John Travolta & Family
Continuing joining hands with the Gastroparesis Awareness Campaign Organiztation
THE GASTROPARESIS AWARENESS CAMPAIGN SUPPORTS
"KNOTS OF LOVE"
Christine M. Fabiani-Founder, Executive Director
Knots of Love's primary goal is to brighten the lives of those in need with kindness and love. All Knots of Love creations are given free of charge to people who are battling cancer or other life-threatening illnesses or injuries.
Thank you to Christine and her amazing organization along with the many volunteers who give their time helping to spread love and support to patients all over the world, "ONE KNOT AT A TIME!"
Gastroparesis Patient Advocate-Pennsylvania
Debby With The Official March 2013 Gastroparesis Awareness Proclamation
What is Gastroparesis?
Gastroparesis is a digestive motility disorder where the vagus nerve is damaged. The muscles and nerves of the stomach, intestines and other GI organs become paralyzed. This condition delays food emptying from the stomach and other GI organs which can result in serious complications and further gastrointestinal problems. 1 out of every 2 diabetics will develop Gastroparesis. This is 50 percent of all patients.
-National Institutes of Health estimates there are over 5 million Gastroparesis patients in the United States. Lack of medical education of Gastroparesis and patients not being properly diagnosed are still left untreated, suffering in silence.
*Gastroparesis is most commonly caused by diabetes, but can also be hereditary or occur as a result of surgery on the stomach or vagus nerve, viral infections, food poisoning, MS/Multiple Sclerosis, Parkinson's disease, ALS/Lou Gehrig's disease, stroke, medications that slow contractions in the intestines such as anticholinergics and narcotics, gastric bypass, lap band, gastric sleeve surgery, smooth muscle disorders, Scleroderma, Amyloidosis, gastro esophageal reflux disease, metabolic disorders, autoimmune diseases, Mitochondrial Disease, chemo/radiation therapy, Bells Palsy syndrome, Ramsey Hunt syndrome, Anorexia nervosa and Bulimia.
*Idiopathic Gastroparesis has no known origin. Many diagnostic tests can be performed however it is still unknown to the medical profession the cause of those patients who suffer from this more rare type of Gastroparesis.
"The Gastroparesis Awareness Campaign Organization"
Our mission is to spread world wide international public awareness and education for this debilitating GI disorder.
The most important issue will be continued communication with local Government on increasing federal funds for research and development. We also hold yearly public awareness activities helping to educate all state citizens and health professionals about Gastroparesis. The Gastroparesis Awareness Campaign team keeps in close communication with current bio-tech companies conducting research for possible future Gastroparesis drugs.
*Don't forget to check back for our upcoming Spring 2019 Gastroparesis Awareness Campaign events helping to raise Gastroparesis Awareness one person at a time! :)
TOGETHER WE WILL FIGHT FOR A CURE!
Gastroparesis Patient Advocate-Texas
Kaitlin With The Official March 2013 Gastroparesis Awareness Proclamation
-The Key to Success for Gastroparesis is Awareness
A huge THANK YOU to all of our Governors!
*In response to the open hunting of wolves in the states of Wisconsin and Minnesota the Gastroparesis Awareness Campaign has decided to no longer affiliate with either state government but will continue providing support for ALL Gastroparesis patients residing in both states. We do not condone hunting as a sport of these sacred animals.
God's creatures both big and small quickly replace what lacks in compassion with society. Animals bring what patients who are sick and terminally ill need, which is, "Unconditional Love and Companionship."
-The Gastroparesis Awareness Campaign Team & Founder
Many Thanks To:
Governor Eric Holcomb of Indiana-Gastroparesis Awareness Month-October 2017
Governor Susana Martinez of New Mexico-Gastroparesis Awareness Month-May 2013
Governor Nathan Deal of Georgia-Gastroparesis Awareness Month-May 2013
Governor Tom Corbett of Pennsylvania-Gastroparesis Awareness Month-March 2013
Governor Rick Perry of Texas-Gastroparesis Awareness Month-March 2013
Governor John. R Kasich of Ohio-Gastroparesis Awareness Month-October 2011
Governor Mike Beebe of Arkansas-Gastroparesis Awareness Month-October 2011
Governor John A. Kitzhaber, M.D. of Oregon-Gastroparesis Awareness Month-June 2011
Governor Chet Culver of Iowa-Gastroparesis Awareness Month-July 2010
Governor Martin O' Malley of Maryland-Gastroparesis Awareness Month-February 2010
Governor Charlie Crist of Florida, Governor Jim Gibbons of Nevada-Gastroparesis Awareness Month-August 2009
Governor David Paterson of New York, Governor Bev Perdue of North Carolina-Gastroparesis & Digestive Awareness-June 2009
Governor Deval L. Patrick of Massachusetts-Gastroparesis & Digestive Awareness-February 2009
Governor Haley Barbour of Mississippi-Gastroparesis & Digestive Awareness-August 2008
Governor Edward G. Rendell of Pennsylvania-Gastroparesis & Digestive Citizen Awareness-May 2008
Governor Phil Bredesen of Tennessee-Gastroparesis & Digestive Awareness-April 2008
Governor Joe Manchin III of West Virginia, Governor Ted Kulongoski of Oregon-Gastroparesis & Digestive Awareness-March 2008
Governor Dave Freudenthal of Wyoming, Governor Kathleen Babineaux Blanco of Louisiana, Governor Ted Strickland of Ohio, Governor Mitchell E. Daniels Jr of Indiana-Gastroparesis & Digestive Awareness-March 2007
Governor Janet Napolitano of Arizona & Governor M. Jodi Rell of Connecticut-Gastroparesis & Digestive Awareness-October 2007
Governor Mark Sanford of South Carolina-Gastroparesis & Digestive Awareness-December 2007
Governor James E. Risch-Idaho-Gastroparesis & Digestive Motility Awareness-October 2006
Governor Ernie Fletcher-Kentucky, Governor Bill Richardson-New Mexico, Governor Jennifer M. Granholm-Michigan, Governor Rod Blagojevich-Illinois, Governor John E. Baldacci-Maine, Governor Matt Blunt-Missouri, Governor Jon S. Corzine-New Jersey, Governor Christine O. Gregoire-Washington-Gastroparesis & Digestive Awareness-May 2006
*Official state proclamations are the sole possession of the
Gastroparesis
Awareness Campaign Organization. We are not affiliated with any other
G
astroparesis
or GI organization.
Queen Elizabeth & The Prince of Wales show their Gastroparesis Awareness Campaign support!
As of February 1, 2019 the Gastroparesis Awareness Campaign has successfully filled over 12,299,468 server requests. Let's continue to grow these numbers by educating the public and raising worldwide Gastroparesis Awareness one person at a time!
KEEP ON! KEEPING ON!
Gastroparesis Awareness Campaign Organization
© February 27th, 2006
Email:
"Spreading International Gastroparesis Awareness One Person At A Time"
You My Friend Will Never Again Walk Alone