Ahhhhh... Life With A German Shepherd... Snoreo~
Mood:
cheeky
Now Playing: Day 2693-Next GP Chapter... Turning Lemons Into Lemonade :)
Ahhhhh... Life with a German Shepherd... Tis ALWAYS a learning experience!
Meet our 3 years young, 93 pound Mr. Snoreo who is every bit a German Shepherd. A really BIG BABY German Shepherd who is also extremely fond of anything that smells or tastes fruity. HA!
His favorite past-time? Begging for any of my super fruity scented and flavored EOS lip balms. Heeheeheeheehee!
We could never figure out why he has such a crazy EOS fruit lip balm addiction, but he does. Yep, blame it on the German Shepherd genes after quickly finding out from his trainer that ALL German Shepherds love anything fruity. I could be standing on the opposite end of the house, twisting open the round top of my pink grapefruit EOS lip balm and POOF! There is Snoreo! Hahahahaha!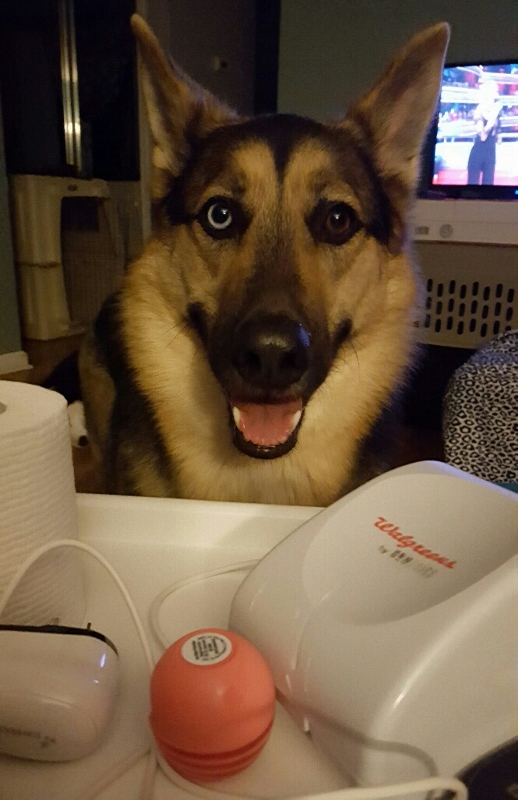 I personally have never raised a German Shepherd. Snoreo is actually a mix of German Shepherd, Siberian Husky, Alaskan Malamute and the little Caesar dog food mascot breed, West Highland White Terrier. Talking about one strange mix! But we do have Snoreo's genetic lab results to prove his sometimes quite odd, yet every single bit German Shepherd looks and mentality. Smart? YOU BET! Although we tend to believe the only Siberian Husky side of Snoreo is his one single blue eye. His large bone structure is every bit a mixture of German Shepherd and Alaskan Malamute. Temper tantrums seem to be the Caesar dog side of Snoreo. Hahahahahaha!
For those who own a German Shepherd or a special kind of German Shepherd, like our Snoreo, here are few really funny facts. All... TRUE!
As for Snoreo? He's still fixated on my pink grapefruit EOS. Heehee
heehee!
Always wanting to know your business all the time. Expect to be followed everywhere, even into the bathroom. Busybody who wants to know where you are and what you are doing at all times.
Get ready to play rough! Be ready for an intense playtime! Always take time-outs so that the play doesn't get too overwhelming.
Negative public perceptions. Thanks to the media, history, popular culture, and surely many mishandled, don't expect to receive a very warm public reaction when outdoors. Some people might automatically get scared due to what they may hear or perceive. We have seen lots of mixed reactions from people who will literally take their time to walk around us and Snoreo to even those who will literally wait in their car until we are out of sight with Snoreo. Hahahaha! Trust me. His objective by breed is to make you as intimidated as possible! But underneath it all, he really just wants your attention. ALLLLL of your attention and lots of spoiling! Heeheeheehee!
Be prepared for some serious vocal demands. I have seen some big baby whiners in my lifetime. But Snoreo takes the cake! He most definitely takes after his German Shepherd side when it comes to constantly talking, whining and all sorts of strange barking. He will whine for all sorts of reasons! Excitement, joy, stress, to get attention, food, etc. Sometimes he will just whine or talk for no reason.
You don't own the furniture. German Shepherds own the furniture in your house. Snoreo is a couch and recliner hog. He doesn't just sit, oh NO, he literally OWNS the couch and recliner. Ready to sit down? Best just take to the floor!
Life with a German Shepherd... In all honesty...
We wouldn't have it any other way
Posted by GastroparesisAwarenessCampaignOrg. at 12:01 AM EDT
Updated: May 22, 2017 2:40 AM EDT