HAPPY GP 4TH OF JULY!
Mood:
on fire
Now Playing: Day 815-The Final Road To Survival
WOWEEE~
This one heck of a HOT 4th of July! 98 degrees>no way! More like 108. You don't need to light any fireworks. All you need to do is stand outside and the heat will light them for you. GEES!
Outdoor events for today? Ummm...NOT. Indoor low-key festivities done my way? Yes. This includes a game of 'Life' in which I might had gotten the defective game when I was born. Hahahahaha! At least our company who came over did great with the game. Even we didn't get high scores like they did last time we played. That is whats so great with Wii games. You can PRETEND! Next game we are going to try during treatment day this week will be the game of 'Operation.' This way I might be able to learn to perform my own surgery. Heck, I won't need to get denied time and time again getting my hopes up only to be let down. I can just learn to do my own Wii surgery! Hahahahaha!
Well...it sounded good anyways.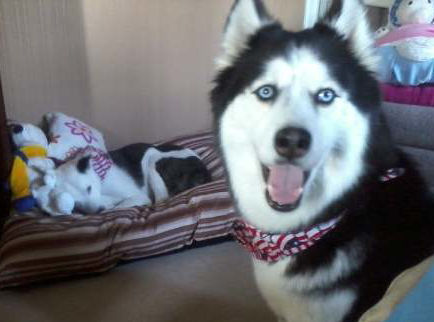 The heat has not only zapped my limited energy but also Oreo's. He has been doing his fair share lately of lounging around the house. Littleblue only lasts around 5 minutes outside. This is going to be one crazy hot summer! The only time they got to wear their Independence day bandannas was indoors today. Littleblue has so much fur that it makes her way too hot. Oreo doesn't mind though, he likes to be dressed up. Hee,hee,hee,hee...
Since I only have two more treatment-free days left before I have to do it allllllllllllllllllll flippin over again I was determined as ever this evening to get out of the house! Tomorrow I see my doctor so they can start me on some strong meds to possibly help ease my intestines being so inflamed and putting pressure on my lungs. I can only handle so many times waking up not being able to breathe and same with during the day. We did make it up to the park this evening around 9pm however it was still super humid outside. Its tough being stuck in the house during the time of year when you are suppose to be enjoying outdoor activities. Its no wonder I love fall & winter because I finally get to be outdoors after being stuck inside half of the year. AMEN.
I do receive occasional letters and emails from those who "assume" I am hiding a secret bout of depression. Even more fascinating are those who "assume" my demise won't be Drano aka Hell-In-A-Jug, blood vessel rupture or bowel perforation but instead by the hands of this "assumed" depression. To quickly answer those letters and emails:
I have a team of over 18 specialists including those who know first hand that I don't have the genetic make up for depression. These same doctors have been treating me for over 8.5 years and we talk about everything. We have gotten so close they have become like family. Using the term, "Throwing in the towel" means I am rightfully so getting tired of the treatments and false hopes so I have to come up with my own game plan and to me "Throwing in the towel" means I am also tired of the non-stop medical frustrations. This doesn't mean I am depressed. If I was depressed I would had been for yearsssssssss....Also diagnosed over and over again for years.......I am thankful and blessed to have the genetics of a person who instead gets mad, frustrated and down right angry. This also puts me into the group of folks called, "Fighters." This is how I have over come the odds because I don't give up, give in, but instead I get angry and fight. Depression isn't something to take lightly, in fact I do know many people who fight depression on a daily basis. Its important to get tested and see a doctor if you start displaying the signs of depression.
So maybe I just went WAY off the topic of today which is about my GP 4th of July however I had to come clean by saying, "If you are looking for some sort of "Secret depression" you won't find it here." Instead you will find a "Firecracker & Fighter" this 4th of July called, "ME."
Posted by GastroparesisAwarenessCampaignOrg. at 11:59 PM EDT
Updated: July 5, 2012 4:07 AM EDT