NEVER Make Definite Plans With Gastroparesis...
Mood:
d'oh
Now Playing: Day 617-The Final Road To Survival
Another sleepless night. Chalk it up as the second night in a row of getting less than five hours of sleep. Try also bouncing back from treatment on limited sleep. NOT! Sure...I got to bed on time but was woken up with not just GP problems but loud noise. Need not go there...Once I woke up after the third time at 9:30am it felt as if my heart was beating outside my chest. This time I made sure to check my blood pressure seeing I was having horrible sweats on top it! Seems when your body can't recuperate and is being woken up for various reasons you can get some pretty scary readings. I was wide awake but with a pulse running 59.
No wonder I felt dizzy!
My friend was awake too seeing they couldn't sleep. They were also concerned with my blood pressure. That made two of us. We both decided something sure has to give and soon because I have yet to rebound and get much strength back since my last treatment. Its also important to get rest and lots of it! I don't see that happening for quite awhile but regardless if I have to check myself into a hospital for exhaustion and get some "FORCED SLEEP" it will be happening. Happening soon folks!
Forget any Christmas Eve plans. They went out the door at 10am along with getting any additional sleep. So much for seeing my extended family whom I only get to see once a year. Its sad but even more sad when things in life are out of your control. There was no need for getting upset or angry because all that does is make my condition a million times worse. Thanks but no thanks I have enough stomach pain, burning and intestinal pain with nausea/vomiting. I made a few phone calls once I finally could get my tired body up, that was at 2:30pm. I was able to get a shower at least so that was a good start but sadly I couldn't attend church where I go every year for candlelight service. Instead I had to settle for another church which is located right behind my home. Their service wasn't until 5pm. This at least gave me time to take a shower and throw on some clothes.
Can anyone have a QUIET Christmas Eve church service this evening? One that is filled with relaxing holiday music, not much talking and where everyone can leave me alone? Horrible when your body is that exhausted that you need to ask for peace and quiet isn't it? Luckily both me and my friend's wishes were granted. This church service was quiet, peaceful and had lots of relaxing music. It was the only thing I was able to gather enough energy to do today. Once we got back to the house which we could had walked back seeing its that close the fur kids were waiting to be walked outside and fed. They were also waiting next to their stockings for SantaPaws. The fur gang were EXTRA good this year so I just know SantaPaws will be EXTRA NICE to them!
Littleblue likes to take charge and guard all the stockings while BearKitty just enjoys laying on the stockings and teasing everyone. Hahahahaha! Hey! animals are just like kids. They are far from dumb! My gang are super smart kids and each Christmas they get lots of toys, treats and gifts.
So what did I ask for this year from Santa? Nothing really because Santa still has yet to find a cure for Gastroparesis. Until then I can only ask for peace and rest for my tired body that way I can enjoy the beginnings of a better New Year. Amen.
Here's wishing you and yours a very blessed Christmas. May all your wishes and dreams come true!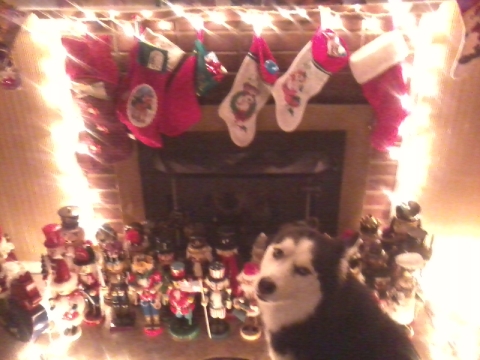 Posted by GastroparesisAwarenessCampaignOrg. at 11:59 PM EST
Updated: December 25, 2011 1:18 AM EST