Rice Krispy Treats... Take 2!
Mood:
d'oh
Now Playing: Day 2952-Chapter 3... Happiness~My Silver Lining
You know, this gal can cook with the best of them!
However... when it came down to my first attempt last month of making Rice Krispy Treats... it was truly an epic fail.
How in the world can one create unique recipes that always end up tasting scrumptiously amazing! Even so much as my very first one-of-a-kind holiday fruitcake. My very first fruitcake that literally just fell right out of the bundt cake pan. Yet... I can't even follow a simple recipe for Rice Krispy Treats that actually turn out to taste... just like Rice Krispy Treats?.
Hmmmm... time for a do-over! Rice Krispy Treats... take 2!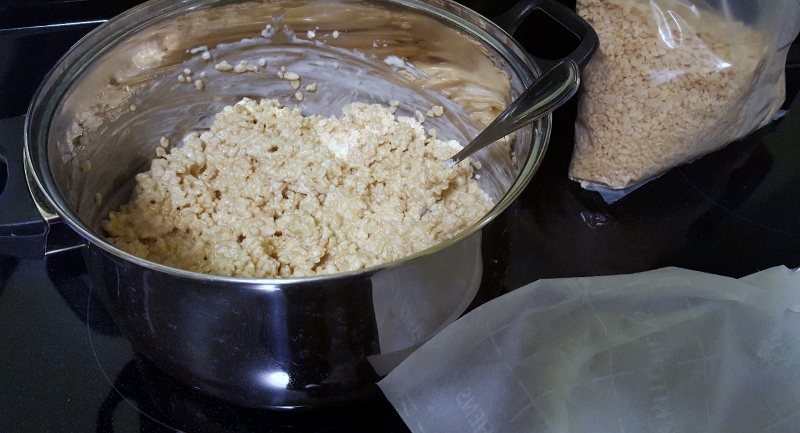 Once again, of course I didn't really follow the recipe on the back of the Rice Krispy cereal box. BAH! I never did like following recipes and would always end up finding my own take on the same ole recipe. But with a twist! I personally do not like using a whole lot of butter. What I do use is not actual butter, but an organic-vegetarian imitation butter. It tastes a bit different, but in a far better way! Not as heavy, pretty light with a really clean buttery taste. It also melts a lot quicker than regular better and with zero lumps. Perfect for my second attempt at making Rice Krispy Treats!
Low... and... slow... making sure not to rush melting the marshmallows and three tablespoons of butter in a very large cooking pot. They say to cook on a medium setting, but I opted for the low-setting this second time around.
So far... looking pretty good!
As far as my new cooking assistants? Well let's just say that today they decided to just sit back, watch and take notes. Hehehehehehe! Papa & Big LOVE kitty were the best cooking assistants on their bestest behavior!
My first attempt with mixing the Rice Krispy cereal once the marshmallows were 'almost' completed melted should had been my first hint. This time around, I made sure that every single marshmallow was completely melted, along with the butter. Nice and smooth! Next step was removing the large cooking pot off of the burner and slowly stirring in all of the Rice Krispy cereal at once, not one cup at a time.
Five-minutes off of the burner and then back on a low-heat setting for another 5 minutes. Stirring enough to make sure that the mixture did not stick to the edges. I removed the mixture off of the burner for the final time and then used parchment paper to line a large glass cake dish... not butter as instructed on the recipe. Really, the trick to having Rice Krispy Treats turn out their absolute best is making sure that the Rice Krispy's have enough time to cool off in the marshmallow and butter mixture. This was the difference that did the trick for me, the second time around!
Some folks like their Rice Krispy Treats crunchy and a bit firm. Then others... like myself and Eric can remember growing up and enjoying the really soft and gooey Rice Krispy Treats that literally melt in your mouth!
Sometimes it just takes a second-time-around for a recipe to turn out PERFECTO!
Like my do-over that turned out this second time around to be a DO-right on a very classic, ooey, gooey, marshmallowy heavenly dish of Rice Krispy treats...
YUMMY!
Want to hear Snoreo and Babyblue's take on yesterdays Puppy Bowl XIV? Make sure to check out todays Podcast-Blogcast audio on our new website!
"Our Crazy Little Life"
https://ourcrazylittlelife.podbean.com/
Posted by GastroparesisAwarenessCampaignOrg. at 12:01 AM EST
Updated: February 6, 2018 3:28 AM EST