Fall Fun & Football Rivalry!
Mood:
cheeky
Now Playing: Day 2860-Next GP Chapter... Turning Lemons Into Lemonade :)
Look at these amazing fall colors!
All sorts of vibrant red, orange and yellow leaves on the trees! The fall season makes this gal SUPER HAPPY!
Love~Love~LOVE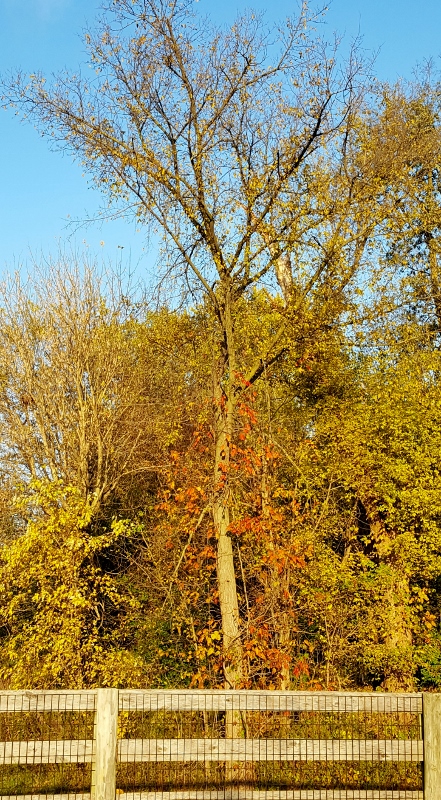 Thankful, is knowing that I have one heck of an amazing team of doctors who quickly found the source of my infection. The latest infection that once again, put surgical procedures on hold so my compromised immune system could receive a bit of assistance. Not only did my doctors quickly find out the source of my infection. But were as well able to quickly work me into their Monday morning schedule for next week.
Anymore with my health. I tend to just roll with the punches. Going where my doctors need me for the time being. Sure, I would like to just call it quits. However, realistically it just isn't possible when I don't even have a second to blink before getting hit again with another complication. Defying the odds... is an understatement.
What I refuse to give up on are days like today. A good day that includes a few good moments. Lots of smiles, fun and plenty of laughter among husband and wife. Even a little football rivalry of sorts!
Eric... still stuck across state lines, mentally believing that the Bungals...Bengals might take home a Super Bowl ring this year. You know, I respect that positive thinking or something like that... ha!
Then of course... You have little ole MUAH! A huge STEELERS fan that isn't shy about poking a little fun at his Cincinnati Bungals along the way. Hehehehehehe! Why, lookie here...guess what I found in one of the storage totes that we brought home yesterday...
STEELERS all the WAY!
Notice Eric's facial expression in the background. A mere disgust of me wearing my infamous Steeler's sweatshirt that I found. Hahahahaha! PRICELESS!
Today, we not only caught up on a few house-flipping projects. But most importantly, we got to spend some time outdoors taking in all the beautiful sights and sounds of fall. Regardless of what life may throw at us. We still always make sure to find time for plenty of smiles and lots of laughter along the way!
Eric's Cincinnati Bungals. I mean, Bengals.
Hehehehehehe!
Muah's...STEELERS all day!
YAYYYYYYY!
Posted by GastroparesisAwarenessCampaignOrg. at 12:01 AM EDT
Updated: November 5, 2017 5:47 AM EDT