WOOHOA!
Mood:
celebratory
Now Playing: Day 853-The Final Road To Survival
Its been a day of great news! FINALLY!!
My fellow GP friend and Realtor gave me some fantastic news this evening that we got pre-approved for a home loan and it looks like Henderson, Nevada might be coming around sooner than later. WOOHOA! Now we are just waiting on things with Eric's end and the final T's to be crossed. Patience is a must right now but I am getting super excited!! It will be a dream come true for this gal and finally I can be free of this nightmare city by starting on a new life-slate out west. This means I won't have to worry anymore about being constantly/falsely judged around here and I can be ME for once. AMEN! My friends in the city are so happy for us and I can't wait to celebrate soon! We are going to do our own celebrating next week since I am on my second Drano aftermath day which means with 3 good days coming around the corner one will be saved for ringing in a new lease on life. CHEERS TO THAT!!
After giving it some serious consideration we have also decided to take my friend Gabe up on his offer by staying at the beautiful cabin this fall down in Tennessee. We both agree its been long overdue to take a much needed break and at least we can bring Oreo & Littleblue. Three of his close friends have already volunteered to keep an eye on the kitty gang so at least I know they will be well taken care of and safe. If my body doesn't last at least its not that far of a drive back home. When I finally do fly it won't be down south but out west to our new home so I am saving that for a later date. I haven't been on a vacation in 7 years. Yes, crazy isn't it?! I must continue testing my bodies boundaries and by making the trip to Tennessee it will help me figure out my limits.
We have been getting so many kind cards, letters and gifts from my GP (Gastroparesis) family that I wanted to say this evening, "Thank you to everyone!" You are all super sweet and I am very blessed to have you in my life. Thank you GP Dad-Joe, GP Mom's Janet & Arline too for all your guidance and support. Thank you KimAngel and family for the beautiful frames and the fur kids gave a paws up on their treats. I finally got the last one filled this evening. We have one on the fireplace mantel and the other one hanging up in the dining room. They fit perfectly with the decor!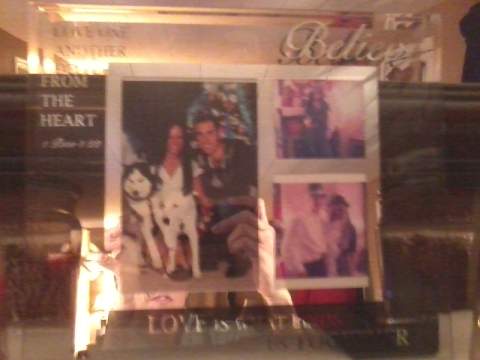 Hopefully with the move we will be in a perfect location out west to finally meet many of the GP family. Thank you once again to everyone for lifting my spirits and brightening our days!
Xoxoxoxoxo
Posted by GastroparesisAwarenessCampaignOrg. at 11:11 PM EDT
Updated: August 12, 2012 3:40 AM EDT