Change.
Mood:
bright
Now Playing: Day 820-The Final Road To Survival
Why thank you Mr. Deer and wildlife gang. I am sure the peaches were just TASTY as can be! Hee,hee,hee... The peach tree is now officially peach-less. The only ones who will be getting any homemade peach pie are the wildlife who either ate them or saved them for baking. Hahahaha! Eric was shocked because as of yesterday we at least had half of the peaches still left on the tree. This evening it was an official peach BUST. Oh well... Glad at least someone got to enjoy them and it gives me reason to "not" blow my liquid diet.
This was "suppose" to be treatment day and by all means I had planned on starting it even earlier than usually however it wasn't high sugar that put things to a quick halt. It was once again relentless family stress. Send in the GP Island plane so this gal can start treatment! AMEN. A day that would had been filled with Hell-In-A-Jug instead was spent on a list of five to call in order to start the process of putting peace back into my life and walking away from those who continue to cause me harm. Eric has been doing a bit of his own behind the scenes and found a sense of relief knowing we might possibly soon enough see a light at the end of the tunnel. Funny isn't it when I should be focusing on my health but instead I must stand here holding onto walls that people have built to "try" and close me in. God sure does love a fighter and I won't be letting him down nor myself any time soon. A dear friend reminded me today that my health comes first and so does my happiness and if someone is causing me harm I need to just walk away. Great advice!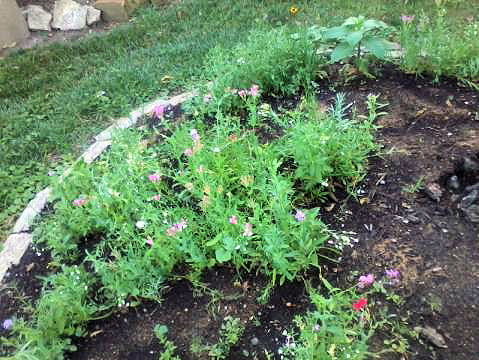 Since this was another beautiful and less hot/humid day we had additional work done on the new gutters. Hopefully the rain will hold off for a few more days so they can continue finishing things up. Its been a longgggggg time comin! The new wildflower beds have been taking off and we have all sorts of new colorful blooms. I haven't seen too many butterflies this year but maybe with the flowers starting to bloom we might start seeing more. Wildflowers also attract hummingbirds. BONUS!
Once the sun started to set we got the car loaded up and headed to the park. The baby ducks are doing amazing and even have a few other older Malard babies who took them under their wings. The other four adult male white ducks have been hanging around them and even the injured female goose. It was nice to see they all accept one another. The female goose seems to be getting around a bit better although she still suffers from an injured leg due to people leaving fishing line around the park grounds. She must had gotten caught in it but we are hoping soon enough either the park Rangers get her help or she is able to slowly bite the rest of the line off her leg. She has to hop around but is doing the best she can while being injured. There has been quite a few times we have come across young kids throwing rocks or tormenting her. Call it a "SPECIAL DISABLED BOND" because although I might not be one of the wildlife I am still human and understand first hand what its like for people to torment and try to hurt you when you are already down. People should raise their children and start them off young on how to respect the wildlife, not try to hurt them. Eric says they need "Kid-Cops" because I would be a great one! I told him if they ever came up with such a thing I would be the FIRST in LINE! AMEN! I have policed more kids at the park than what I would like to say who are left unattended trying to harm wildlife while their parents who clearly don't know how to watch their kids nor maybe should had thought first about having any sit back and don't do a darn thing. Once I speak up I have yet to see anyone take over. Maybe I am a "Kid-Cop" already and just don't know it but all it takes is one time for the menacing kids to understand me and I get my point across. I don't take people tormenting people and I sure won't take people tormenting animals. You can't feel sorry for anyone young or old who gets bit due to their actions and sheer ignorance. People have a right to defend themselves when sick or injured and so do the animals. I sure won't be the first to offer assistance when we finally see someone get bit but I will be the first in line by saying, "I told you so."
Its been a very long and stressful day but glad to end it on a positive note. Eric said, "If this was the Planters company he would be a shell walking among all the nuts. Hahahahaha! OK. Now that was funny and sometimes the best medicine in life will always be laughter. AMEN.
Its finally time for me to close the doors of stress and walk away. I need to do everything in my power so I can refocus on my health and my life again...
Posted by GastroparesisAwarenessCampaignOrg. at 11:11 PM EDT
Updated: July 10, 2012 3:30 AM EDT