Waiting For The Desert Heat...
Mood:
cool
Now Playing: Day 808-The Final Road To Survival
I wonder if the weatherman can get this forecast right or once again be "wrong?" We are suppose to get some wicked heat with humidity starting tomorrow. Today will sadly be the last day enjoying any type of outdoor activity. UGGGG!
It wasn't bad outside this afternoon however my allergies are starting to get worse. We haven't had any rain in quite sometime so the grass is starting to turn a few shades of brown and resembling a bit like tumbleweed. Eric might not have to cut the grass after today for another few weeks. Hey! we might not need to head out west after all and instead the desert might come to us. Ohioada-Ohio & Nevada. Hahahahaha! Since we have no plans right now to move due to a pending three step surgery I want to add a few nut trees around the property. The squirrel gang gave the idea a HIGH-FIVE from the current trees in the front yard upon the news. Hee,hee,hee,hee... Eric said, "Great! now we will have every squirrel in the city living around the house since they would now have an endless supply of food. They might instead think we are NUTS." Hahahahaha! Come on now. They already have an endless supply of food but now it would just make it more convenient for them. Call it a, "Self-Service Buffet." Hahahahaha!
We have just a few last minute things left to do on the project list. Today I got two of them done. I didn't realize how long I had some of my financial accounts and although all in good standing it was still time to part ways. One was opened over 14 years ago. WOW! Talking about time flying by! It felt good to continue making positive changes and at the same time closing a few old chapters of my life. Bear kitty even let me go through his huge basket of toys in order to clear out the old ones. OK. So it wasn't a lot because once he heard me in the basket of toys he quickly reclaimed them. Fur kids sure are smart!
My insides still remain quite angry and although most of the time increased walking helps but not this time. Once it got dark we were right back outside again trying to walk down some of this darn pain and horrible inflammation. Did it work? Nope. I wish. It might be a good thing my new surgeon and surgical team appointment is in a few days because I am not even sure right now if doing treatment this week is such a good idea. Who knows at this point if it would be safe or not so I will leave that up to the surgeon.
After walking, walking and more walking my body was beyond exhausted so this evening we caught up on our favorite television shows and had a low key night...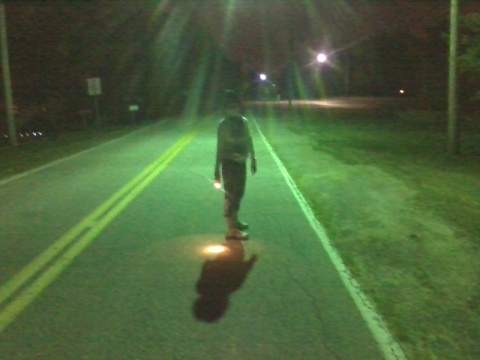 Posted by GastroparesisAwarenessCampaignOrg. at 11:51 PM EDT
Updated: June 28, 2012 4:34 AM EDT