Drano Day Round #2!
Mood:
don't ask
Now Playing: Day 793-The Final Road To Survival
If you first don't succeed then try, try again. OK. So the first round of treatment didn't work yesterday. It didn't work at all! Make today Drano round #2 and if this doesn't work then forget it!
One day of Drano is bad enough but for the first time I got ZERO, ZIP, NADA relief so today I was stuck with a back to back dose of wicked treatment. UGGG! This might be a reason why my specialists are urging the importance of getting these darn intestines out and if for some scary reason the new surgical team isn't comfortable and they run like hell at least they will perform surgery on an emergency basis. That is "if" I could or would make it into the surgery room. Sudden bowel rupture is deadly and you only have a certain amount of time to make it to the hospital. When you have a very high tolerance of pain like myself it can be tricky to know "when" its time to head to the emergency room but I try not to think too far ahead. I just hope I will never have to go through such a scary scenario but I am a realistic when it comes to my unique and progressive medical condition. "It is what it is."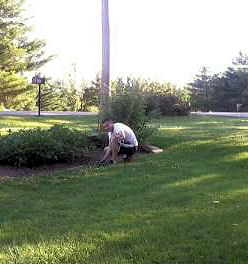 So....I finished up another Hell-In-A-Jug treatment by early this evening then decided to play landscaping Supervisor while my Hubby got the flowerbeds de-weeded and ready to plant more wildflower seeds. The sunflower seeds we planted last week became a quick snack for the squirrels so I decided to just plant some additional wildflower seeds that way I know at least they won't become an appetizer for the wildlife gang. Hahahaha! Wildflower seeds are great because you get such a wide variety of flowers that come in a rainbow of colors. They are also low maintenance and love the sun and summer heat.
The tiger lillie's and roses are doing really good and so are the butterflies bushes however we have only seen a few butterflies so far this year. Hopefully once the first round of wildflowers start blooming that were planted last month we will start seeing more butterflies and hummingbirds since they attract both.
After a long Drano day for me and a productive day outside for Eric we decided to get the lounge chairs out to relax. Seems Oreo and Littleblue had the same idea so we each shared part of our chairs. Looks like the next thing on our list to buy for this summer and fall will be a few more chairs!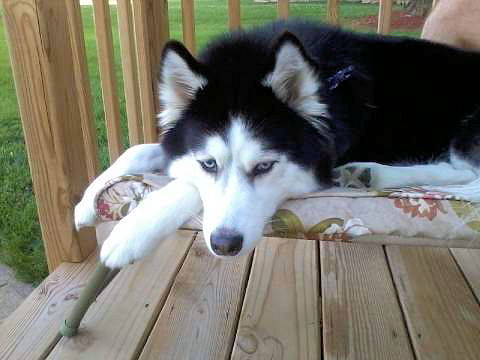 Now all I need is the beach, sand and seashells. Doesn't that sound nice?! We can always still pretend can't we?...
Posted by GastroparesisAwarenessCampaignOrg. at 11:30 PM EDT
Updated: June 13, 2012 2:43 AM EDT