HAPPY MOTHERS DAY! :)
Mood:
amorous
Now Playing: Day 763-The Final Road To Survival
Wow! What a weekend and thank goodness its the start of a new week in less than 24 hours. WOOHOA!
I had planned on getting lots of rest however my cell phone started ringing around 10:45am. With the house issues, mold, repairs, etc me and my friend-Caregiver have decided we need to keep our options open and possibly find a temporary short term lease rental until the house is repaired. We are hoping the mold issues can also be resolved but until the air quality company comes out next week and runs their own tests we won't know so its touch and go. The stress lately could knock any healthy person off their feet so its a good thing Gastroparesis has made me one heck of a strong woman! Its also been mentally and physically exhausting.
Since making quite a few phone calls and emails yesterday we had five properties to go through today. Of course this is Mother's Day and I might as well forget doing any celebrating because this will be another busy day. Add to the mix some additional clean ups in the basement after missing a few spots where we forgot to put down mold killer.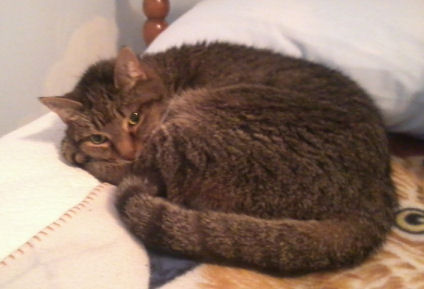 Cuddles kitty got sick a few times through out the night and still hasn't been feeling good. The Veterinarian called back with some of the lab results that showed elevated levels with her liver but he doesn't feel that is whats causing her heart murmur. Age is a huge factor and one I must remember since Cuddles is 14 years old. The other test results won't be back until tomorrow. For now he has us keeping a close eye on things and if she still hasn't started eating or drinking by Monday afternoon we will need to take her back to get rehydrated. Her siblings have been taking turns sleeping next to her in between us doing our checks making sure she is ok.
Its been one heck of a rain filled Mother's Day especially traveling to the various rental properties so by the time we got back home I was already beat! Try doing what I am being "normal" then try it on little to no food. Luckily with two of us it means less time finishing up the rest of the list filled with things to do. When I finally got the chance to sit down it was 9pm. I opened my Mother's Day cards and beautiful white gold and diamond key with lock necklace from the gang. Thank you also to my dear friends for your Mother's Day wishes and cards. Happy Mother's Day to my Mom who had a nice time at the spa getting pedi's and manicures with the Stegmans and Roesels girls/woman this afternoon. A very Happy Mother's Day to Nell & Arline who are like second Mom's to me. Thank you for all your kind words of support through out the years.
I am hoping to get a well earned "ME" day later this month. Hopefully by then things will wind down. If you think its tough being sick just imagine tackling the other life issues with the house and finding a place. Harder doing it with just the two of us since most of my friends live out of state. Those who do live in state are busy between work and their own lives. Through life's challenges you truly realize who are there for you. Thank you to those who never let me down and show me what love truly means.
I may be one tired and exhausted Mom this Mother's Day but I am the luckiest Fur Mom around with the best Fur Kids in the world!! Xoxoxoxoxo -Mommy
Posted by GastroparesisAwarenessCampaignOrg. at 11:11 PM EDT
Updated: May 14, 2012 2:18 AM EDT