Crazy Ideas All In The Name Of Vanity...
Mood:
chatty
Now Playing: Day 742-The Final Road To Survival
If you ask the fur gang all this cool weather sure makes for great sleeping! Pumpkin has even been buddying up with Oreo lately but only because Oreo has been so tired that he hasn't noticed Pumpkin sneaking a spot on his huge bed. Hahaha!
I am starting to do my best getting some additional exercise on a daily basis even with a unique set of medical circumstances. Its not been easy but at least my friend-Caregiver has volunteered to support me by tagging along on the walks. I found out very quickly crutches are convenient but can hurt the heck under your arms. The cane is great until spinal pain creeps up but with time comes pain tolerance. Of course since gravity is better than any drug for GI dymotility problems it can also make you extra tired since GP patients can't eat like normal people. Once again I have been utilizing my Jack LaLanne juicer blending tomatoes, apples, strawberries, spinach and carrots together so I get the best of both worlds. I am almost finished with the new vitamins I started a few months ago. So far no changes that I can see or feel so its once again back to juicing along with my watered down daily Slimfast routine. Hungry? Yes! I have also been craving some odd things lately like Garlic bread, chicken parmesan, pork chops, tuna casserole and carrot cake. Normal foods that honestly prior to my Gastroparesis I would have cared less about so maybe my body is just craving certain foods due to lack of nutrients. I always bring along my huge water bottle filled with juiced fruits and veggies at the park so its not just sitting somewhere at the house. Spring and summer months are the worse time for us GP'ers when it comes to dehydration. Better to be safe than sorry! Same with wearing masks on windy and cold days like today. Who is that masked woman? Hahahahaha!
If you think that looks odd just imagine the looks on our faces when we saw a huge Crane standing near the lake looking for fish. The last time I saw a Crane was in Florida so clearly this is one confused bird however seagulls have been making their way up north the past few years as well since Mother Nature is even confused when it comes to seasons.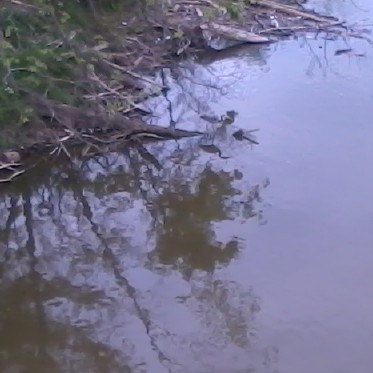 A dear fellow GP friend recently told me about this latest fad diet going around called the "K-E" diet. I personally had never heard of it before but once I looked into this new diet craze what I did find was just absurd! How any woman can feel its OK to go through such drastic measures in the name of vanity to look good or more like "accepted" by society in order to rapidly lose 10+ pounds is just NUTS! Seems what started in Europe has now made its way to the United States with many women now lining up for outpatient surgical procedures having tubes placed down their throats in order to look good for special occasions. What happened to going on a diet and cutting back on what you eat? What happened to not putting that box of Oreos or Twinkies in your mouth to start with and instead of grabbing drinks with friends why not grab your running shoes and hit the local trails with them? Seems to me society has not only become lazy but way, way, way too obsessed with one person-Themselves. I know of a few people who have undergone elective gastric bypass procedures after being led into the direction from those who under went the surgery themselves. Not only are these procedures which involve cutting into your stomach unsafe but if you would like to become a great candidate for Gastroparesis and find yourself a seat next to me during my next Drano aka Hell-In-A-Jug treatment then you are quickly on your way!
What people fail to realize are the long term consequences that come with electing to alter their GI organs. People need to quit being lazy and finding excuses to drop the weight safely and naturally. Sorry but when you are sick and did not ask for altered digestive organs such as those of us with Gastroparesis vanity is the last thing on your mind. Patients struggle to just feel normal whether alone look normal. This new diet fad is just insane and ridiculously dangerous! The things people will do in order to keep up with the fashion magazines and be accepted by the rest of society is sad. If you want to lose weight and live a healthy lifestyle why not do it the old fashion way called, "Being active, cutting the fat out of your diet and not finding excuses to exercise." Pretty soon I won't be the only one enduring surgical bowel prep or self injections just to stay out of trouble and from becoming toxic. Bypass surgery and K-E diet patients welcome to my world! If you didn't like your hair before no worries, we have wigs for that and I promise you one thing there will be no need to worry about ever being fat or gaining weight again. Drano treatments will take care of that!...
"The K-E Diet: Brides-to-Be Using Feeding Tubes to Rapidly Shed Pounds"
Brides-to-be looking to shed that final 10, 15 or 20 pounds in order to fit into their dream wedding gown have taken a controversial approach to crash dieting that involves inserting a feeding tube into their noses for up to 10 days for a quick fix to rapid weight loss.
The K-E diet, which boasts promises of shedding 20 pounds in 10 days, is an increasingly popular alternative to ordinary calorie-counting programs. The program has dieters inserting a feeding tube into their nose that runs to the stomach. They're fed a constant slow drip of protein and fat, mixed with water, which contains zero carbohydrates and totals 800 calories a day. Body fat is burned off through a process called ketosis, which leaves muscle intact, Dr. Oliver Di Pietro of Bay Harbor Islands, Fla., said.
"It is a hunger-free, effective way of dieting," Di Pietro said. "Within a few hours and your hunger and appetite go away completely, so patients are actually not hungry at all for the whole 10 days. That's what is so amazing about this diet."
Di Pietro says patients are under a doctor's supervision, although they're not hospitalized during the dieting process. Instead, they carry the food solution with them, in a bag, like a purse, keeping the tube in their nose for 10 days straight. Di Pietro says there are few side effects.
"The main side effects are bad breath; there is some constipation because there is no fiber in the food," he said.
Slipping into a wedding gown for a dream wedding is a moment of truth for most brides, but as many say that there is a real fear that it will not quite fit. That's how Jessica Schnaider says she felt with a June wedding approaching and 10 pounds she says she couldn't lose. She was desperate for a quick fix.
"I don't have all of the time on the planet just to focus an hour and a half a day to exercise so I came to the doctor, I saw the diet, and I said, 'You know what? Why not? Let me try it. So I decided to go ahead and give it a shot," she said.
Schnaider said she was never hungry throughout the 10 days she was on the K-E diet, but admits that it still wasn't easy.
"It was emotionally difficult, the 10 days of not eating," Schnaider said. "And sometimes I had to give excuses to people who were asking are you sick? And I was like, 'No, I'm not sick, I'm not dying, I'm fine.'
"I was tired. I didn't feel like exercising. The doctor told me that if you can compliment with walking for a half an hour on the beach, that would be great, but I didn't feel like doing that. I'm a very energetic person, but those days I was a little tired."
Although the K-E diet is new to the United States, it has been around for years in Europe. Dr. Di Pietro charges $1,500 for the 10-day plan, and says the before-and-after pictures sell themselves.
But critics warn that losing too much weight too fast can be dangerous, and it ultimately won't last. Di Pietro warns that people with kidney issues should avoid the diet.
Many doctors also say that with so much pressure on brides to be perfect, it's easy to understand why this kind of rapid weight loss might seem appealing, but might not be healthy.
"If you lose the weight too quickly your mind is not going to be able to catch up with a newer, skinnier you," psychoanalyst Bethany Marshall of Beverly Hills, Calif. said.
Schnaider says that in her case she actually only kept her tube in for eight of the 10 days, skipping the last two because she'd already lost the 10 pounds she wanted.
She has kept it off so far, saying she is looking forward to her big day this summer.
Posted by GastroparesisAwarenessCampaignOrg. at 11:59 PM EDT
Updated: April 23, 2012 2:07 AM EDT