Placing GP Life On Hold For A Day!
Mood:
happy
Now Playing: Day 739-The Final Road To Survival
Its the start to a good day! Its a perfect day outside with great weather too! Far too nice to be stuck indoors so I vowed to make this a day to get out of the house.
After another ER visit last month my Gastroenterologist suggested I try self-injections using a new drug that just came out on the market. Since my intestines don't work due to nerve damage any new medication that comes out on the market is worth a shot! (No pun intended) Of course my GI doctor had to type up the typical medical necessity and drug manufacturer letters so it took a bit longer than expected but my new medication arrived today. I am used to taking medication orally not via self-injection so its time once again to learn something new. Life is a lesson to be learned and pretty soon my wisdom will out number my age. My friend-Caregiver went to pick everything up and my doctor's assistant mailed me a book/manual on how to use the new medication and sent me a card good for one month free minus my insurance deductible. Honestly trying any new drug that just came out on the market is just as scary as buying a new car just released to the public because there will always be unforeseen problems. This holds very true for new medication since most drugs are now used for not just their original purpose but other health problems. Once he got home with the huge bag of medication I didn't want to read anything because I wanted to enjoy the nice day and not fill my brain with unnecessary stress.
The only shocker was the price of this injectable drug $779.99!!! Thank goodness for insurance since my out of pocket part was only $20.00. WHEW! Its outrageous the price of prescription drugs and honestly unless you have insurance who could ever afford taking this medication?
Pumpkin Kitty has been meowing since we got up to go outside. He is the only one of the gang who stays near you and won't take off. He doesn't go after any wildlife or birds but just enjoys lounging in the sun while his siblings take in the sites on their window loungers. I haven't been able to enjoy the park much this year since being sick and my spine causing problems but today was an exception. There are quite a few parks all within a short drive from my home so I made sure to buy a membership this year for all the parks.
I am also hoping to get Oreo and Littleblue out a bit more this spring and early summer. They love going to the park but it can sometimes be a learning experience with all the other fur kids being around. With it being such a nice day outside as expected the park was filled with walkers while others were biking, kayaking and fishing. There were four beautiful white ducks all swimming together and very friendly since I am sure they get fed plenty of food from people visiting the park. From a nice scenic view of the lake came a group of young teenagers throwing rocks near the ducks. Since the ducks were so used to people I had a gut they were aiming not at the water but the feathered creatures. My friend-Caregiver thought the same until one of the teens came a few inches from hitting one of the ducks in the head with a large rock. Of course my Motherly instincts kicked in and I am not one to just stand back and not say anything so I quickly yelled, "What are you doing?" The four teenage boys looked shocked to see someone actually saying anything since there were lots of people fishing with their children just sitting there not saying a word as they were trying to hit the ducks with rocks. "Don't throw rocks at the ducks. Do you realize you can't do that in a park?" They quickly turned around as one pointed at the other placing the blame although I was one step ahead and saw them all. Let's just say I fear nothing and no one in life. Gastroparesis can do that to you and if you were weak before getting sick Gastroparesis will quickly turn you into one strong human being. AMEN! Regardless if I have children or not adults should be adults and take action and responsibility to correct children who are misbehaving. If we weren't walking past them I am sure they would had seriously injured one of the ducks who weren't doing a thing but enjoying being fed by the public. Since the Park Rangers were nearby the teenagers would had gotten more than just a verbal scolding, more like a trip some where and not around the park. Hahahaha! Since my friend-Caregiver works at the jail and is a county Sheriff he is used to dealing with those who start off as out of control teenagers who quickly become troubled adults. Not me. I would rather stop it before the behavior escalates. Sadly it took saying something for other adults who were just sitting there to respond. Some even had young children by their side who were watching these teenagers try to harm the ducks. Just imagine what they do away from the park! Sad to see as my friend-Caregiver said, "I will see them down at the jail in a few years due to not being properly brought up by their parents." Sadly I had to agree but if anything by not being silent and once again speaking up it might change the way those around the lake react next time when witnessing inappropriate behavior.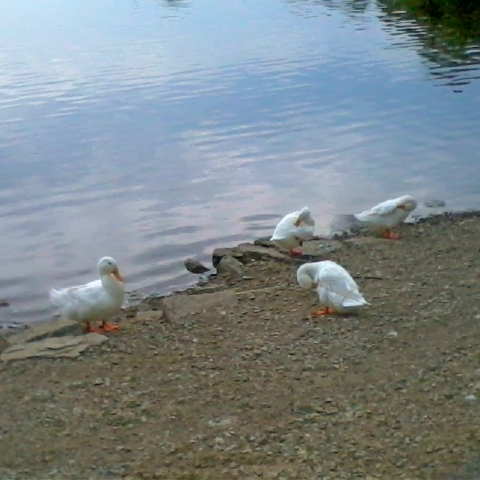 The ducks at least swam away safe and sound while the teenagers walked away as expected mumbling under their breath. Hee,hee,hee,hee...If you don't think it feels good to make a positive impact on others and the world then maybe you need to try it yourself one day.
After a nice walk at the park and running a few errands we came back home to find Littleblue sitting on the couch with one of her frisbees. WOW! This is the second time she has literally went up to the hallway shelf and got one of her frisbees down. Last time she actually had it in her mouth and dropped it by our feet. Talking about SMART! Oreo had a great time playing outside in the backyard today which made for one tired puppy this evening. Although tomorrow I must face the music once again as GP life comes calling my name at least today I got out and was able to enjoy life. Its always nice to make some new happy memories for a change. CHEERS!
Posted by GastroparesisAwarenessCampaignOrg. at 11:59 PM EDT
Updated: April 21, 2012 2:30 AM EDT