HAPPY EASTER!
Mood:
happy
Now Playing: Day 728-The Final Road To Survival
HAPPY EASTER!
Wow, this is the fifth holiday since December! No wonder by the time I put up one set of decorations its time to take them down and put up another. Hahahaha!
Me and my friend-Caregiver didn't get to sleep until 4am. Well actually he dozed off at 1am but with the pain I was wide awake and just decided to let my brain get tired until I fell asleep. We have two new "Ghost Adventures" DVD's but only got through one last night. Later this evening once we all wind down I am hoping to start the second of three discs. I love the show on the Travel Channel and watch it every week. I find it very fascinating and either you are a believer or not. I have personally seen and been a witness to quite a few things to fully believe those who pass on to a far better place-Heaven still are with us spiritually.
We were going to do our best to attend church service yesterday evening but I was too mentally exhausted. That makes both of us! I had the wrong time wrote down for services today so sadly we missed Easter church service but welcomed a new tradition of our own at dinner here at the house saying our blessings. It was nice and something as a child I always felt made holidays seem more sincere by saying Grace at the table. Once we got up at 2pm I wasn't quite sure how the day would turn out having the first Easter in 40 years at home. The weather at least was picture perfect! I wish it would stay this exact temperature year round. Our new neighbors were even outside enjoying the weather and doing some landscaping and yard work. I haven't been feeling too well long enough to formally meet them but this afternoon we all finally met. They are the nicest couple and have such a funny sense of humor and glowing personality. In fact it seems not only our new neighbors but the ones on the other side of their house were also celebrating Easter at home. I also had quite a few friends and GP'ers who sent me holiday phone greetings from home as they decided to do things a bit different this year and celebrate at their own houses.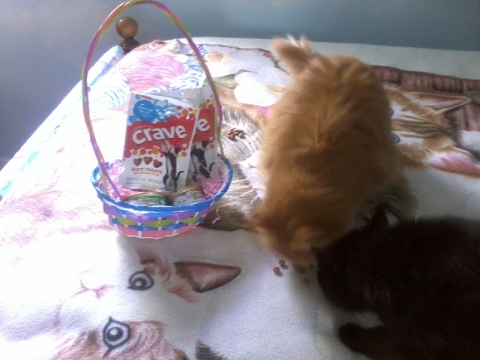 Even though we celebrated Easter at home I had a list of things to do. Since it was so nice outside my friend-Caregiver played frisbee with Littleblue while Oreo enjoyed some back yard time. We took a few short walks at the park and later this afternoon went up to the cemetery to place some flowers on those who have passed onto Heaven.
Of course Easter wouldn't be Easter without the traditional basket hunt. The fur kids found theirs right away although Oreo cheated and already found his last night. The Easter bunny must had made an early stop! Hahahahaha! Funny enough I also found some empty Reese cup wrappers in the garbage once I got up but my friend-Caregiver pled the fifth. Hmmmm...The fur kids got lots of new treats and Littleblue even got a new blue frisbee.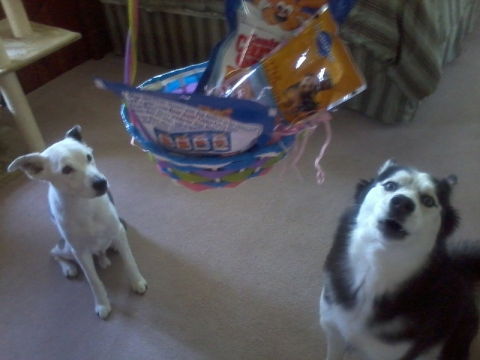 Once they were situated me and my friend-Caregiver went to go find our own baskets. I got candy and a new Clay Aiken CD. Since my blood sugar tends to run low now its important I always keep candy around me. Sadly I can only handle two different candies and although I am tired of miniature plain Hershey bars but at least I found the new Hershey nuggets to also do fairly well. Since sugar dissolves there is less digestion needed but its still not enough to keep my sugar up so I also now use glucose tablets and gel. This is a very common symptom and problem for Gastroparesis patients.
If I knew my neighbors were going to be home for Easter I would have had them over since I was already planning on cooking dinner. Since it was pizza night last night for my friend-Caregiver I decided today to cook barbecue chicken in the oven, macaroni & cheese, baked potato and cream corn.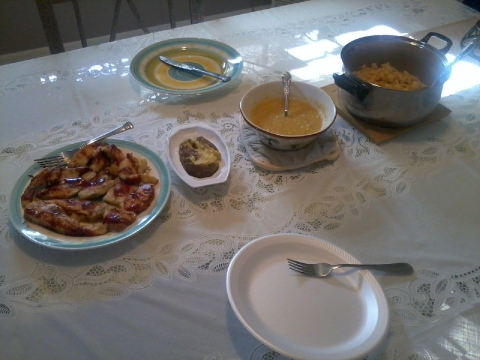 I had two small bites of mac & cheese and chicken. I haven't had much of an appetite lately and a few small bites was enough for me then I reached for my watered down Slimfast and frozen Greek yogurt. My friend-Caregiver enjoyed all the food and even helped clean up. The fur kids took a break from playing basket guards long enough to have their own small plate of food.
After placing the Easter baskets on the counter so the fur gang don't devour their treats all at once we took Oreo and Littleblue back outside to play then for another short walk. Even though this was the first time not celebrating Easter with our families it still turned out to be a very nice and relaxing day. We now have new friends-neighbors who plan on having a cook out soon which I think will be one of many because we all have so much in common! A picture perfect day outside, great conversation, great food and fun with the fur kids as well taking time out to visit dear departed loved ones-family made for a thankful Easter for everyone.
How did we end our evening? Well OF COURSE! A walk to help my friend-Caregiver work down all the food and candy treats then we got the living room couchbed and recliner together and finished up our "Ghost Adventures" marathon. CHEERS TO A HAPPY EASTER! WOOHOA!!
Posted by GastroparesisAwarenessCampaignOrg. at 11:11 PM EDT
Updated: April 9, 2012 1:28 AM EDT