Use Your Brain-Not Your Heart.
Mood:
d'oh
Now Playing: Day 704-The Final Road To Survival
Where else but Ohio can you have snow then the next week summer weather and 85 degrees?
The pollen count has hit an all time high by setting records everywhere today. Just step out to your local drug store and you can easily tell how much this crazy weather is already taking a toll on everyone. Those who have allergy problems can expect them to get ten times worse this year. Those with compromised immune systems like myself can just plan on not leaving your house for the next six months or until the first frost, which ever comes first. Hahahaha! My poor immune system is getting hit hard! It smacked me square in the face once I woke up to a stuffed up nose and sinus headache. Later this afternoon as soon as I stepped outside I quickly returned back to the house to get my trusty mask. No, not Halloween masks although in this city I might as well wear one as nosy folks continue asking, "Whats wrong with you? Why are you wearing a mask?"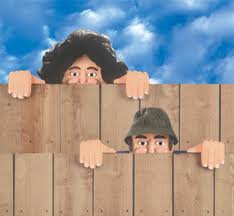 Boy! Nevada is sure looking better & better by the day! WHEW!
My friend who has never had allergy problems before just started last year. Today he felt the blunt of it with sneezing, coughing and itchy eyes. He takes sinus medicine but I tend to think there isn't anything strong enough with this crazy weather. I wasn't able to take much of a break from my steroid nasal spray last year. I am now up to taking it twice a day in hopes of staying out of trouble. Maybe I just need to create some masks with sayings on them so it stops people from asking some of the most ridiculous questions. Maybe I just need one word in black marker, "WHAT?" Hahahahaha!
This afternoon I finally had to quit dragging my feet and make an appointment to see my specialist next week regarding the red rash and nagging quad pain-liver/pancreas. Sure, I will always have issues going on with my organs due to my Gastroparesis but if there is anything they can give me to quiet the monster down and put it back to sleep it will be worth the visit! My doctors don't like me procrastinating and waiting until things get out of control. I learned last time when I got a royal ripping over the phone. Its best to work with them as a team, not against them. My spine is still behaving badly today so I wasn't able to do much but at least I was able to get out with my friend for awhile and enjoy the day. Thankfully my post concussion syndrome is now long gone. WOOHOA! One down! If I can continue taking things off my full plate one at a time I will be a very happy gal! Wishful thinking...W I S H F U L thinking...
I got some beautiful red roses today and a very nice card in honor of my GP anniversary from a dear friend. Thank you sooooooooo much! You made my day and brought a huge smile to my face. Its nice to know there are people out there who still treat you as the person you once were before becoming sick. I sure wish they could be a lesson for others. Amen. I have had a few old friends come out the woodwork over the past six months. I like to call them the "Houdini Friends." Those who disappear as quickly as they pop up in and out of your life. Maybe it was a guilty conscience or just curiosity that made them magically appear like nothing happened but a lesson learned as I resort back to watching who I trust. I have had enough hurt in my life and I don't need "Houdini Friends" that come and go when they please. Instead I should take that time and invest it in my real ones. Those who continue accepting me at face value even while being sick. A friend of mine I have known over the past 22 years gave me a few words of wisdom, "If they weren't there for you when things got tough then how in the world can they be there for you now? Look at the once again disappearing act and quit setting yourself up to get hurt." Great advice and once again lesson learned!
"Advice is what we ask for when we already know the answer but wish we didn't."
Posted by GastroparesisAwarenessCampaignOrg. at 11:59 PM EDT
Updated: March 21, 2012 2:30 AM EDT