Is It Winter? Spring Or Summer?
Mood:
lazy
Now Playing: Day 699-The Final Road To Survival
I slept horrible! Between the treatment getting stuck inside my intestines, Littleblue bouncing back and forth between the couch and the floor, sweats and the monsoon rain it was a sleepless night. The only positive thing was since the storms produced some serious high winds, hail and lightening most lost their electric. This means my dentist appointment will once again need to be moved to next week. Good news for me because I only got around four hours of sleep and wasn't physically in any way, shape or form capable of dealing with dental work today. Its already been such a hectic week that it might be better to wait things out a few days. I don't have any pain but that's only because of the extensive nerve damage from my GP.
Its not normal to have your heat running one day then your air conditioner turned on the next day but welcome to destroying our ozone layer. Thanks folks! Now we are having record heat while it is still winter. Its not even officially spring yet as the temperatures will continue into the low 80's over the next four days. I already had the sweats last night from treatment so around 4am I got up and turned the air conditioner on. Thank goodness I am not sick 'YET' but I won't push my luck by knocking on any wood either!
My friend has a new project on their hands since buying a large piece of gym equipment last week. The equipment just arrived Monday and since hes being putting it together solo we both realized the directions that say it takes 2-3 hours has now turned into 4-5 hours. Oreo and Pumpkin have been busy playing Supervisor but today its been more like sleeping on the job. Hahahaha!
Hes hoping to have it finished by this weekend so my GP room can be back to normal. Gym memberships anymore are so expensive with all sorts of hidden fees that its smarter to buy your own equipment. Its also nice to work out in the privacy of your own home and be able to watch what you like on TV. I sure do miss working out but mostly connecting with people-society. With my spine a mess and dealing with numerous GP problems the best I can do is walk. Its nice having the small park right in front of the house but looks like the rest of the week I might have to just settle for my treadmill. That is if I can catch a break with the Hell-In-A-Jug side effects. By that time I might be due for my next treatment. GEES!!
St. Patrick's day is this weekend and I always try to celebrate. The past four years I had to wait and play things by ear and this time will be no exception. Hopefully by Saturday the rain will ease up a bit and so will my GP-Drano treatment. If not Littleblue promises to be my couchbuddy for the weekend. Hee,hee,hee,hee,hee...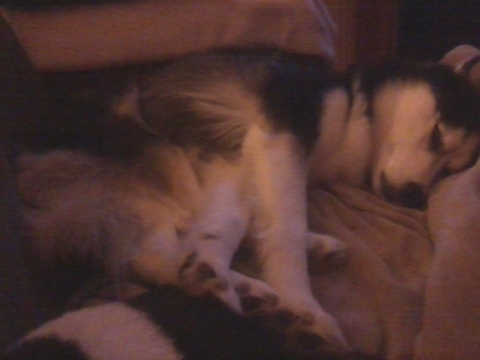 Posted by GastroparesisAwarenessCampaignOrg. at 11:59 PM EDT
Updated: March 16, 2012 2:06 AM EDT