Celebrating A Belated Valentine's Day!
Mood:
happy
Now Playing: Day 672-The Final Road To Survival
Finally its the weekend! I am beyond ready to get out of this house-jail and celebrate a late Valentine's day. Better late than never and so far it looks like a rain-free upcoming weekend too!
The fur kids have been extremely antsy wanting to run and play outside in the backyard. Littleblue has been non-stop shedding and it would be great to get some of this fur released outside instead of inside on the furniture.
Looks like there will be all sorts of new changes coming very soon! This also includes new neighbors. The house next door is no longer vacant and the new neighbors will be moving in this weekend. I am hoping to maybe have some new neighborhood friends. That would be great and maybe even a new playmate for my friend's son and even a few fur kids for the gang. Its perfect moving weather although I sure don't miss the time it takes to move nor the stress. Thanks but no thanks! Next time this gal moves it will be out of state to Nevada or to the cold weather and mountains in Colorado.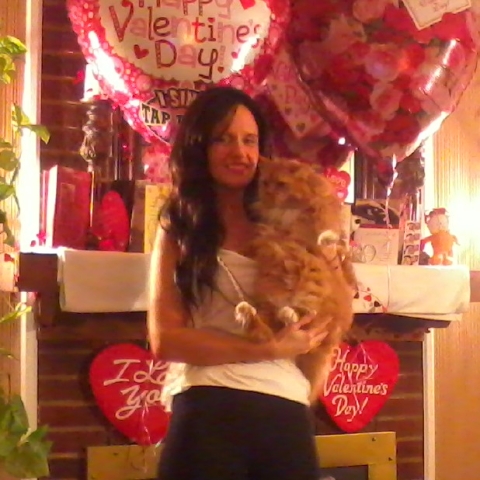 I made good on the promise to myself heading out at least once a week to have some fun and enjoy life. Tonight was the night although it was a very slow start due to the waves of nausea and vomiting. I figured it might be a short night when I was already yawning and getting tired before we even headed out the door. Hahahaha! There are so many new places I want to try up in the Dayton, Ohio area as well Northern Kentucky. At least I was able to visit one of them this evening although it was short lived. I just couldn't get my body to follow my brain and have some fun. My energy ran out after just two hours but "A" for effort and at least I gave it a good attempt! Luckily I still have a few great friends in the city, more than just acquaintances that totally understand my limitations that sometimes happen with my medical condition so we all decided to call it an early night.
When I arrived home the fur kids greeted me at the front door with wagging tails. I had a friend take a few photos of us celebrating a late Valentine's day near all the wonderful cards and gifts I got from everyone. This might be a low key weekend but that's ok because there is always next week to play catch up with living life and having fun! Amen.
Posted by GastroparesisAwarenessCampaignOrg. at 11:59 PM EST
Updated: February 19, 2012 3:17 AM EST