A Lazy Fur Kid Day...
Mood:
chillin'
Now Playing: Day 671-The Final Road To Survival
One would think today was a lazy fur kid day...
Not that waking up until 3pm wasn't late enough but after getting two walks and a defurminator brush out the entire gang was done for the day! Hahahaha! I tend to think this crazy weather jumping back and forth from winter to spring is to blame. Everyone lately seems to be coming down with some sort of virus or horrible allergy problems. My doctors have warned me this is just a taste of things to come. I have a hunch this might be the worst allergy season we have ever seen and if so just send the plane and here I come the mountains of Colorado!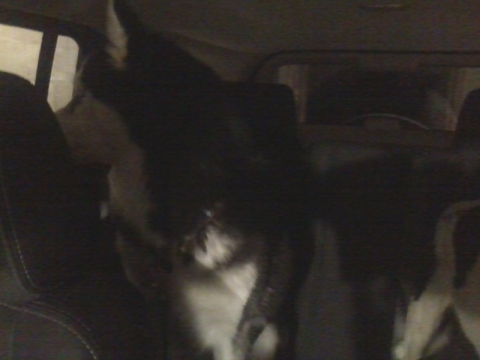 I can only handle so many days in a row stuck in the house so today I ran some errands even taking the fur kids along for the ride. Oreo needs his toenails clipped and since the rain has let up this was a perfect opportunity to visit his groomer. Littleblue is continuing to shed her winter coat a few months early and what a mess! I must now vacuum the house once a day in order to stay on top of the hair. Luckily I have a defurminator rack so every day she gets brushed in the basement. Its a two man job but we're hoping most of her shedding will be done by early next week. I always keep covers on the couch but with her shedding they must be changed also once a day. Its a job! Oreo has short hair and when he does shed it isn't much. Thank goodness!
Jingles puppy gets to visit with the fur gang once a week. He is getting to be huge and now weighs 30 pounds. Its good for Littleblue because it helps to get her energy out and allows for some play time however since Oreo still has seizure problems he chooses to remain out of the playing and instead in the hiding far away on the couch. Oreo will be 14 years old this year and let's just say he has earned his "leave me alone freedom." Hee,hee,hee,hee...The groomer did mention when she was trimming his toenails that he seems a lot more calmer thanks to his new medication. He doesn't have seizures as often so its a good sign! Since I had Drano treatment for Valentine's day the only ones who got to celebrate were the fur kids.
I made a promise to once a week treat myself to some fun and get out to enjoy life. I am keeping that promise and hoping to get out this weekend finding new things to do. Life is far too short and when I have a good day I plan on using it to the fullest. I completed my treatments this week and the last one was finally successful. The friends I have here in the city are fully educated on my unique medical condition and I now take a large purse with medical necessities just 'in case' something happens. My mind is much clearer and I am no longer scared because my doctors have been doing a wonderful job educating myself on remaining calm and keeping myself focused. I hope to continue taking small steps in order to plan a short weekend get away this coming spring. For now I am taking it one day at a time and one week at a time finding a new adventure to aim my sites on!
Lookout weekend because here I come!
Posted by GastroparesisAwarenessCampaignOrg. at 11:40 PM EST
Updated: February 17, 2012 2:47 AM EST