Feeling A Little Jersitaly!
Mood:
celebratory
Now Playing: Day 639-The Final Road To Survival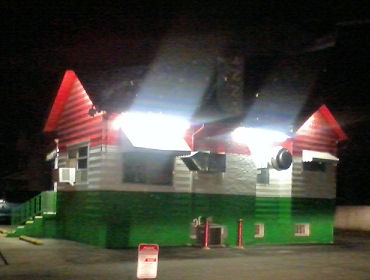 I'm feeling a bit Jersitaly this week!
While taking a peaceful scenic drive the other day we came upon a house that surely represents true Italy at its best! How neat is that?!! I just had to stop and take a photo!
My other run in with Jersitaly this week came in the form of a DVD I purchased online. I have ordered from Amazon.com quite a few times even during the holidays purchasing a few gifts. I have never had any problems and always received my orders within a week. Of course the one time I am REALLY looking forward to getting something in the mail is the first time I run into a defective order. GEES! I have only heard of one other person who told me about a DVD they got as a birthday gift and the disc ended up being blank. It does happen, although I am sure its very rare. Just call me the second person to win the defective DVD lottery. WHOAHOA! I love the show 'Mob Wives' and once my friend heard the first season was available on disc we both decided to go in on a copy. Amazon as well VH1.com had them for sale but I figured since I have already ordered from Amazon and never had any problems why not save myself a few dollars.
What I ended up doing instead is going back and forth with the seller on how to return the defective product. I even suggested they contact the company where it was purchased from seeing that is information that any company would want to know. If there is one surely at least a few other defects are also roaming around the great USA. I even tried the discs on three different video players but they came up blank and wouldn't even read. After four days I am still waiting on information to send back the return to the seller but so far no luck. I might just end up eating this purchase. Go figure! Although sellers just like Ebay have buyer feedback I am hoping to hear back from the seller on my return by early next week so I can buy a replacement. Maybe I need to just contact the 'Mob Wives' so I get this quickly resolved instead of Amazon. Hahahahaha! OK. That was FUNNY!
I vowed after dealing with a tremendous amount of stress going on in my life that I do whatever it takes to put an end to it. So far I am working on the first day of feeling like I can breathe again. It felt great! I set my cell phone alarm for 12:30pm. I didn't sleep too well in between Oreo having a seizure and me getting sick. I can't predict the vomiting any more than Oreo can predict his seizures. With my back not giving me much of a break either I still was determined as ever to get out and visit a bit of Jersey.
I tried to make contact with this individuals management company a few months ago but no luck. With seven years of experience under my belt I have found the best way to approach someone in the spotlight is to meet them one on one or when the opportunity arises. I have yet to meet anyone who didn't want to take the time learning about the Gastroparesis Awareness Campaign mission. When others just hear the word, 'Gastroparesis' they always have the same concerned and confused facial expressions. The Gastroparesis Awareness Campaign was never about money. Our hard working tax dollars is where the government gets the funds for research not from incorporated organizations. The majority of organizations out there now work the same as any other company. Non-profit sadly doesn't exist anymore. People are more willing to help and work with someone if you just be yourself without asking them to open their wallets.
People respect people who are true, sincere and genuine. At the end of the day I always treated everyone I have met over the years the same as I would treat any other well respected person. If you take the title away a person is the same as you and me. I am blessed for the overwhelming support from many celebrities and others in the spotlight. Those who are willing to help the Gastroparesis Awareness Campaign team in raising Gastroparesis Awareness and helping the public by educating others on this debilitating GI dysmotility condition.
I didn't forget about my back fractures today. I didn't forget about vomiting. I didn't forget about what little energy my body has nor additional weight loss. The most important thing I didn't forget was millions of other Gastroparesis patients around the world who too suffer on a daily basis and the power of awareness! It didn't matter if I had to crawl to my destination today. My passion is still alive and I will continue fighting hard in what I believe in. A Gastroparesis cure and saving lives.
Yes, it was indeed a very successful Jersitaly day!
CHEERS!
Posted by GastroparesisAwarenessCampaignOrg. at 11:59 PM EST
Updated: January 16, 2012 2:11 AM EST