WHEW! What A Day!
Mood:
on fire
Now Playing: Day 623-The Final Road To Survival
The day after treatment has turned into a day from HELL! I am beyond hungover from the darn Drano with a smashing headache. This treatment of course hit me neurologically. Seems you just can't determine jug to jug what each toxic poison mix contains.
Jingles puppy hasn't been feeling too well and its hard to determine if maybe he might have a separate virus. He is of course a young pup so even if sick they still want to play but his stool smells horrific and he might need a prescription dewormer. Regardless I felt it was best to take him to the vet and get a re-check. So around 3:45pm after playing clean up around the house and working on four loads of wash we took him up to see the vet.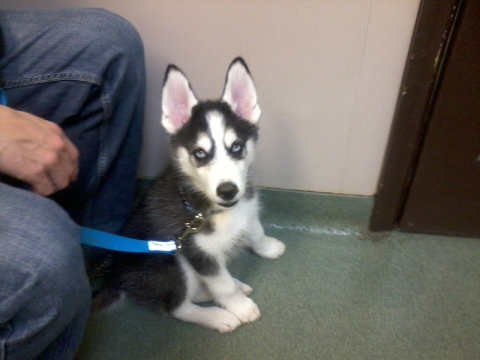 Thankfully the rest of the fur kids at the house are feeling fine although Oreo and Littleblue still want no part of Jingles. The kitty gang take their stance whenever Jingles comes running up to play. You will hear the occasional hiss and then a loud swat! They might not have their back claws but they sure make good use of their front ones Jingle is learning very, very quickly!
Once we got to the vet we didn't have to wait too long and they re-examined Jingles who is still battling kennel cough and a virus. He is slowly getting better but its important to bathe him once they are coming down off their virus. It helps to rid any bacteria on their skin too! Let's just say I am BEAT and now we must go home and bathe him on top of finishing up loads of wash. No pun intended! GEES! Jingles was a little beastly handful on the way to the vet but after getting his second round of puppy shots he was out like a light on the way home laid back down for a nap once we got through the front door.
KEY WORDS: Once we got through the front door...
Within five minutes walking into the house we were greeted by puke everywhere. OH NO! It didn't take long to realize Oreo is now sick. I had a hunch they would all get whatever Jingles brought into the house and I was right! Oreo kept vomiting so guess what we did? Since Oreo is 13 years old and viruses are much harder to fight for him back to the vet we all went! Seems upon examination I was correct in my guessing, Oreo has the same viruses that Jingles has but its hitting him ten times harder. He didn't have a fever then but that sure changed later on in the evening! They gave him a shot for the vomiting and nausea then a strong injection filled with antibiotics.
What a day!!
I thought everything would be OK as me and my friend finished up what seemed to be a never ending game of wash, shampooing and vacuuming the house. I honestly don't know how the heck I did it today being so sick and tired myself but in life sometimes you just have to do what you need to do. Jingles finally laid down to sleep around 10pm but around 12:30am Oreo started having seizures with delayed breathing. I was extremely concerned but didn't want to move him because I personally know first hand what you can do to someone moving them during a seizure so I called the emergency clinic down the street from my house. They had us bring Oreo down asap! I wasn't sure if he would make it but boy was I HOT HOT HOT for someone bringing over a pup so sick knowing it could hurt the other fur kids. Some people are just STUPID! But when people become addicts they can't even take care of themselves whether alone even a plant!
Once we arrived at the clinic they let us in and took Oreo back right away. The veterinarian came back in to explain why Oreo is so sick and declined so quickly. With him being 13 years old he can't fight off infections and viruses like younger fur kids. Its very similar to my fragile immune system and having to be super cautious around anyone who is sick. I catch things super fast and so can Oreo. He was running a 102.5 fever so definitely up from just earlier this afternoon. They had to give us more antibiotics then explained with the tremors, seizures and poor Oreo being so sick its touch and go. My nerves as well my friends were shot! The only good thing is the kitty gang can't get canine viruses so they are in the clear but Littleblue can catch the same viruses since they are airborne so we must watch her very closely. For now they want us to wait 48 hours to see if Oreo's body can bounce back from the virus since it is just now in the active stage. As far as seizures they can't do much because they are very common in older pets.
Its a good thing I was watching Jingles because I doubt he would had made it in the clear and as far as Oreo its a 24 hour wait and see. I don't work anymore so I can be home to watch him so he doesn't have to stay in the clinic. As far as the individual I am watching Jingles for? Let's just say when I text them at the vet for shot records that I was told were already there they were no where to be found and neither was he.
Like I said and said it a million times before:
I don't do well with stupid people who not only should but DO know better. AMEN.
Posted by GastroparesisAwarenessCampaignOrg. at 11:59 PM EST
Updated: December 31, 2011 6:30 PM EST