What GP'ers Endure...
Mood:
irritated
Now Playing: Day 614-The Final Road To Survival
So here I sit...Upper right pain that just likes to keep on coming back wave after wave after wave after wave after wave...This same darn pain usually is a clear sign of bad things to come. It also means my fused intestines are becoming blocked. Luckily I only have less than twenty-four hours left before getting a bit of relief from the almighty Drano. AHHHHH!
I think I broke an all time staying up record! I literally couldn't get to sleep until 6:40am this morning. Between back pressure, pain down my legs, nausea, vomiting and the darn upper right pressure pain I was just glad I stayed out of the ER! AMEN! Looks like a few days of clear fluids with a yummy diet consisting of chicken broth, popsicles, Gatorade and SmartWater. Speaking of SmartWater....Since my water level was low this afternoon after stepping on the scale I better take in more fluids before I get 'STUPID.' Hahahaha! Get it? "SMARTWATER" not drinking enough equals becoming 'STUPID.' Hahahaha! OK, nevermind.
Speaking of stupid...Sadly my friend got a wake up called "stress" this afternoon. Nothing quite like starting your day with four hours of senseless stress. You can never win any arguments with a concrete wall. Sadly I used to be like that but now I hit the ole turn off switch and conserve that fire cracker energy for better things such as days when I have rebounded from Drano. I also use that energy for taking a walk on my treadmill or washing the gray and my hair literally out of my hair, hahahaha! There isn't anything worth stressing about and if you have to go into hours at a time with the same topic over and over again then maybe you just need to end the topic. I felt horrible for him seeing he always goes out of his way to help so many people including myself. Honestly he deserves nothing but happiness in life not sadness.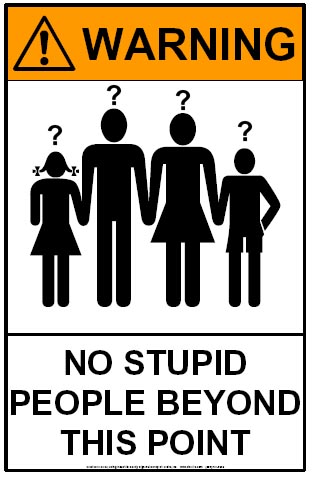 My friend John down south has a little motto that goes something like this, "When you surround yourself with nothing but stupid people you in turn start to become stupid so don't fill your life with stupidity."
John has seen his fair share over the years of some very heartless people. His beloved Mother lost her battle with breast cancer and his Dad was diagnosed with Alzheimer's disease and now spends his days in a nursing home. John has no siblings nor any other extended family. I always tell John, "You have me and if you ever need me don't hesitate to call." He recently moved down south to pursue a better contractor job for the Army and has been doing great! Holidays for John are the worst kind because he says, "No one cares when you are alone. People are so focused on their own needs that they become oblivious to others around them." I sent John and his fur kid-Mr. OrangeKitty a Christmas card last week with a note thanking him for being such a dear friend. I got a reply back the other day saying, "Just wanted to say thanks for being you. You're kinder and show me more appreciation than people I have know for years. And everyone wonders why I don't like people. Hmmmm?...
After doing my best this evening to walk down the pressure pain from my intestines I got home and read the second part of my GP friend AnnMarie's story in the Florida newspaper. I guess we can also chalk up that so called, "Christian Hospital" as part of the stupid people. Shame on them! Here's praying AnnMarie has an Angel out there that can help her and her dear Father.
Its tough being sick but worse when you want to live and you have to jump through a million hoops at the same time. AMEN!
Tavares woman's case underscores issues with Florida Hospital Waterman's
'charity care'

December 21, 2011
Second of two parts.

Hounded by collection agencies and getting increasingly sicker from a strange incurable disease, a 40-year-old registered nurse from Tavares turned to Florida Hospital Waterman for help paying her medical bills. AnnMarie Riehm hasn't worked for two years, so the hospital approved her to receive "charity care," which is paid by taxes collected from Lake County property owners. But it's not that simple. It never is.

Sunday's column pointed out the weird kicker in AnnMarie's situation: She has good insurance — at least for now — that pays for 100 percent of her treatment after co-payments that range from $15 to $250, depending on the procedure. So, this is all about co-pays. The hospital has been vigorously pursuing AnnMarie, who holds a master's degree in health-systems administration, through a collection agency, for the portion of her treatment that her insurance company doesn't cover.

Never mind that the amount Waterman collects from her insurance is far more than it would be if she were a Medicaid patient, for example, which she may be soon. Never mind that the insurance payment almost certainly covers the cost of the
procedures — and more.
So, how does "charity care" work? Prepare for a stroll down a twisting path.

Most folks think their taxes are going to pay for the care of desperately ill Lake County residents who have no insurance and are too poor to pay anything themselves. While that's often the case, Waterman also counts in its annual reckoning of "charity care" the co-payments that folks like AnnMarie couldn't make, even though she has insurance. That unjustly inflates the amount of
"charity" care the hospital provides the community.

What is 'medically necessary'?

The hospital says that it uses 100 percent of the tax money for charity care, so theoretically, tax money goes to make up for AnnMarie's co-pays. Of course, as hospital officials quickly pointed out, none of the hospital tax money paid by
Lake property owners is applied to any individual account. The hospital without question takes care of everyone who must have "nonelective" treatment that would "cause harm" if it were put off, Chief Operating Officer Carrie Fish said.

Its policy is to charge a co-payment of $50 for outpatient procedures or $200 for inpatient stays if the treatment isn't "medically necessary" for life. All that would change if a bill being filed by state Rep. Larry Metz, R-Yalaha, passes in this year's legislative session, which starts in early January. His measure would prevent both Waterman and Leesburg Regional Medical Center from supplementing payments from insurance, Medicare or Medicaid with tax dollars. It also would require them to apply for tax money in each individual case so that the money is accounted for and not just dumped into hospital coffers.

How would this affect AnnMarie? Probably not much. Already, the hospital considers her multitude of procedures as "not medically necessary" and charges her the amount the hospital established as a co-pay, which are similar to her own insurance's co-pays. What the hospital sees as nonelective also differs from what her doctors think she needs. The hospital view is far shorter. It thinks: Will this person die
this afternoon or perhaps tomorrow or early next week if we don't administer this test? Is it "medically necessary" to keep living? Her docs think like this: AnnMarie's condition is deteriorating. Her heart might be enlarging. We need to find out because that might kill her.

Unemployment has run out

That's how AnnMarie got into a little spat with a financial representative of Waterman over $15 for a test she ultimately had on Dec. 6. Sick and weary, she told a Waterman representative that her credit cards are maxed out, and her father, who shells out $800 a month to keep up her insurance, cannot pay more. The representative threatened not to schedule the test.

Frustrated and sick at heart, AnnMarie blurted, "When someone tells you might be dying, and you need this test, then it's 'medically necessary.' My doctors are trying to figure out what is going on with my body. I'm not coming in to have my cholesterol checked." Indeed, AnnMarie's financial situation is dire and she isn't being tested for fun. Already, she is sending $25 a month (from her dad) to whittle down a bill of roughly $600 from last winter's trips to the Waterman emergency room. Even though she is paying, the hospital turned the account over to a collection agency, which ceaselessly calls her home.

AnnMarie lost her job with the county's health department in 2009 and spent about 18 months collecting unemployment and trying to improve her health enough to go back to work. She moved in with her father. As soon as she cashed her unemployment check, she turned around and wrote one for her health insurance, but her unemployment benefits ended in June.

AnnMarie has a condition called gastroparesis, which causes her throat, stomach, small intestine and large intestine to work sporadically or not at all. Her condition worsened last winter, and she began suffering almost continual
bowel blockages, which can be fatal. Doctors thought removing her large intestine would ease the pain and allow food to move more easily through her system. She hoped to be back to work within months of the surgery. It didn't
work. They tried putting a pacemaker in her stomach that electrically stimulates nerves to open a valve between her stomach and small intestine. It is designed to be a kickstart to the digestive process. That didn't do much either.

Milestone birthday
At 5 feet 9, she dropped to 95 pounds and doctors began feeding her through a vein in her upper right arm. She is up to 102 pounds today.
Still, she has to eat a little solid food once a week to prevent liver and gallbladder damage. Usually, liquids just slosh around in her stomach while solids sit there and rot. She'll either vomit or begin what seems like endless trips to the bathroom for several days. Since her April surgery, it has become clear that AnnMarie will not work again, and she has started the paperwork to apply for a disability income from Social Security. If she were to receive disability benefits from Social Security, she could also receive Medicaid, which pays for medical care of people who are deemed disabled. If that happens, Waterman will be reimbursed for only 40 to 60 percent of the cost of her care.

The woman who played sports her whole life and ran marathons now spends her days in a recliner in her father's house, where she naps on and off and worries continually about how she'll pay for the solution that nourishes her. She is focused on beating her condition but is realistic about the enemy. Her trips out of the house are mostly once-a-week excursions to the grocery store or doctor visits. AnnMarie was always a happy person, and she reminds herself of that. Like most of us, she dreaded turning 40, an event that occurred Nov. 22.

"I always said, 'I'm going to hate turning 40,' " AnnMarie said. "When it happened, I said, 'Yea! I made it to 40!'
Posted by GastroparesisAwarenessCampaignOrg. at 11:40 PM EST
Updated: December 22, 2011 3:09 AM EST