Trying To Be Festive While Sick...
Mood:
happy
Now Playing: Day 606-The Final Road To Survival
It's hard to be festive when you are sick, but where there is a will there will always be a way!
No need to tell you my bedtime. It hasn't changed. I still refuse to take tons of medication only to help one thing and make other problems ten times worse. I instead allow my brain to override the nausea, vomiting and pain. This means my bedtime is anywhere between 5-6am. I get up when my body tells me it had enough rest. This is between 2-3pm. At least my doctors don't have anymore concern with not allowing my body enough downtime after each treatment.
I created a holiday list this year in hopes of crossing off one festive activity after another. Now if only the constant rain would let up! I don't mind the snow in fact you KNOW I LOVE SNOW! I just don't need to be out in cold, rainy, damp weather and risk getting sick. At least me and my friend were able to take the fur kids up to see the drive-thru light display at a local park.
Its a tradition for me and now going on 14 years. This is new to my friend but he really enjoyed it! Its nice when you are not feeling well to just drive-thru the display and not worry about having to get out of the car.
The fur kids really enjoyed the lights although I tend to think they were more focused on smelling the cold, fresh air out the windows and wanting to be one with the woods, hahahaha! They were already tired prior to taking them seeing we made sure to go for a short walk first to avoid any 'accidents' in the car. They had a few new displays this year at the Holidays In Lights and added a new SantaLand where you can visit Santa and his Elves. It was a great day to go because we didn't have to wait in any long lines to view the lights and we could take our time. The fur gang were on their best behavior. Needless to say once we got back home they were all out like a light! Hahahaha!
I found a box waiting for me at the front door filled with goodies! I also got a very nice gift in the mailbox. Thank you Joe & Janet for the movies. It was very thoughtful of you! Thank you France, Roland and the KittyGang for my new manicure set and all the beautiful polish! Let's just say I got to try a few colors out this evening. Now I have "Happy Toes!"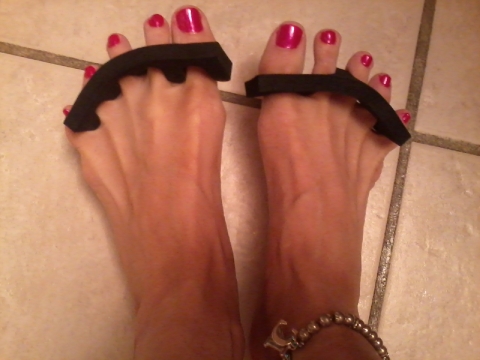 Thank you also to all my fellow GP friends as well family, friends and loved ones for the festive cards that line the doors near my couchbed. Its very nice to wake up and see all the colorful cards!
Its the little things in life that mean the most and being remembered during the holidays.
Posted by GastroparesisAwarenessCampaignOrg. at 11:42 PM EST
Updated: December 14, 2011 4:26 AM EST