Back On Dry Land!
Mood:
happy
Now Playing: Day 599-The Final Road To Survival
WHOAHOA! We are all back on dry land today!
This was of course after waking up at 3pm. Thank goodness Littleblue is our new alarm clock and howls when she needs to go outside because if not I could literally sleep all day. This body is beat but I still must remember to keep moving because gravity is the only thing I got left on my side. I assume if I wanted to just lay my cards down I could easily do so but I don't see that happening anytime soon.
Once my friend woke up they were one step ahead and made sure to check on the basement for any more leaks or standing water. So far so good! The weatherman was WAY OFF today with the forecast. So much for partly cloudy skies. Instead we added a third day of rain, rain and more rain. It might take us a month to dry out. Where the heck is the snow? My friend said, "I could just stay home all day." Me? I can only handle so much being stuck in my house-jail and I was determined to get out! I don't have the luxury to lay around and watch TV all day unless I want to end up right back at the hospital. NO THANKS!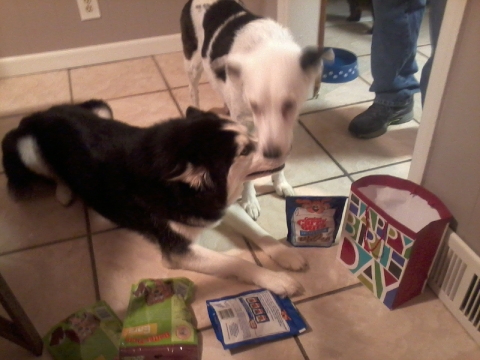 We had a birthday this week at the house. It was Oreo's 13th birthday! To me he will always be my puppy. Oreo is such a affectionate fur kid and is also very generous especially when it comes to his birthday gifts. Seems it must be a Husky thing with Littleblue. What's his is hers and what's hers....Is hers! Hahahaha! Oreo got all sorts of new toys, treats and a sporty blue collar. What's a birthday when you can't share it with the rest of the gang? Even those who were a bit stingy...Like Littleblue, heeheeheehee!
Once I talked my friend into going out to run a few errands and get some groceries we headed out the door. My friend takes their dinner-breakfast to work seeing they are on third shift. They used to just buy something but he even admitted having home cooked meals to take is not only cheaper but he feels healthier. I love cooking and don't mind making meals. Its fun to create new recipes or even tinker a bit with existing ones.
We did stop by my friends house so they could pick up their mail. To most people they have no idea what he gives up in order to stay at my house and help me during weekly treatments. I tend to think he deserves all the Christmas gifts this year and should be placed on top of Santa's SUPER NICE LIST!
He did change from second to third shift so it does limit spending time with his son however if only I was healthier we could all do more activities together. Its a very sad situation but we tend not to dwell on things that are beyond our control. I just hope one day I can repay all the favors he has done for me. He has given up a lot in order to be here and help out around the house. Its a very selfless thing he is doing and if only others in this world could follow in his footsteps. Hopefully he can be an example for all. I told him this evening how much I appreciated everything he has done for me and most of the time without even asking. It takes a very strong person to accept a terminal condition and be around someone who has many limitations in their life. We find things to do around my disability and although sometimes it can be a challenge we never fail to find laughter.
Well off to figure out this new compact video camera my friend bought as an early Xmas gift. This way he said, "Now your family will always have happy memories of you to hold close to their heart."
Touching...
Posted by GastroparesisAwarenessCampaignOrg. at 11:47 PM EST
Updated: December 8, 2011 3:24 AM EST