A Hodgepodge Kind Of Day...
Mood:
chillin'
Now Playing: Day 593-The Final Road To Survival
It was one of those days when I had a little bit of this and a little bit of that on my schedule. What I SHOULD had was my treatment! Now I am once again another day behind. GEES! I had every intention to start my Hell-In-A-Jug at 2pm today but guess what? Life called and said, "Sorry but I am the driver today. Things will just have to wait." So at 9:30am the doorbell rang. Seems the delivery drivers for the new refrigerator were four hours ahead of schedule. YIKES! Talking about not being prepared seeing nothing was emptied out of the old refrigerator yet so me and my friend were both half out of it still trying to rush getting things together. Even the fur gang were confused being woke up at the crack of dawn. They are used to our sleep schedule now so they were a bit cranky, heeheeheehee!
I must admit though it sure feels great to have the old refrigerator out of the house and this nice new one in its place! The new one is a bit larger than the old one so plenty of room. With the other one starting to go out and over heating it had me nervous in fear it would catch on fire/ Thank goodness I have one less thing to worry about now on my already full plate. Thank you Hugh for getting the new refrigerator super fast! We truly appreciate it! Once me and my friend reorganized the freezer and changed around the shelves we loaded the rest of the groceries back in and then headed to sleep.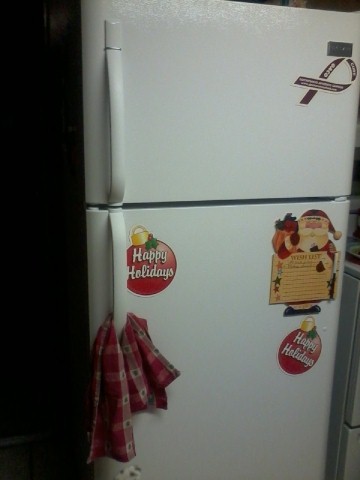 When I woke back up it was 2:30pm. My friend is almost on the same sleeping schedule as I am but he works third shift so any extra sleep he can get is always a good thing! I was going to maybe attempt the ole Drano but after the dental work yesterday it left me with a very sore mouth and red gums. Add some super strength liquid chlorinated salt water to the mix and you can forget it! No way is it worth risking additional infections and my friend agree by saying, "I think it is safer to wait at least a day to allow things to calm back down before placing more trauma to your body."
I couldn't agree with him more.
The past week I haven't endured too much intestinal pain but heck! I don't feel nerves in my teeth or spine anymore either so I shouldn't be too shocked that maybe other nerves are already dead or dying. Its part of the progression with Gastroparesis. No organ is ever safe. Amen! I am still dealing with the nausea but not as frequent with the vomiting. I only assume that is because I am forgetting to take in enough meal supplement drinks the past few days. The stress with my ex moving out and leaving me high and dry isn't helping matters but I am doing the best I can to keep my head above water. I worry more about the poor fur kids. The kittygang will be staying with me at the house that they have lived at for the past 8 years . He won't allow me to keep Oreo and Littleblue here all the time and wants to have them three days out of the week. To me it just isn't a good idea seeing Oreo will be 13 years old next month and the stress could kill him. Littleblue is still young and only three years old but is used to sleeping with Bearkitty by her side. The transition of going back and forth isn't healthy for humans whether alone fur kids that need stability. Try to reason with someone who wasn't even going to give me a month notice and just bail out on me in two weeks?...Might as well forget it. The stress that I know they will go through is already stressing me the heck out and I sure don't need that with my Idiopathic Gastroparesis complications I am experiencing.
I think it should be made mandatory that anyone who wants to just try and up leave a marriage should have to by law file for divorce. This way there isn't unnecessary stress involved on anyone. Especially those who are sick. Amen. If someone can easily walk away from a marriage then they can easily walk into a court house and file for divorce. In my personal opinion there is just no excuse unless you can't work and are permanently disabled. If the shoe was on the other foot and I was the one pulling the same thing I surely wouldn't put my animal kids through stress by taking them away from their surroundings. I have no problem with my ex visiting or taking them for the day but when it comes to staying over its just not healthy and way too confusing for them. They are used to home not being shoveled back and forth from one house to another.
If you are reading this and have human kids then consider my fur kids the same. My medical condition took away my ability to have children of my own. My fur gang are my kids and I treat them as such. I can't help my intestines strangled the rest of my reproductive organs. I would have been just as great as a Mom to human children as I am to the fur gang. Life just sure isn't fair sometimes is it?
My niece will finely be home with her newborn son Braylen Thursday. I am sure she can't wait to get out of the hospital seeing its no place to get any sleep. Hopefully she will have help with the baby so she can catch up on some rest. He sure does have lots of hair although we are known to be the hair family. I just lost most of mine one jug at a time, hahahahaha!
I have been doing a bit better this time around with the birth of the newest member of the family. Much better than last time seeing it sunk me into baby depression all over again. Its still hard though and I have had more than my fair share of times holding back the tears of just losing it. I still have a huge void in my heart not being able to have children of my own. That void never goes away because majority of society has children. They have families. I don't but I have my fur kids and I love them just the same. I do fine with older children but when it comes to newborns FORGET IT! I freak out and want to run for the hills! Call it protecting my feelings and I don't feel like dancing back into a deep baby depression again although its very easy to do so. I can handle my medical condition seeing I didn't ask to be sick and it wasn't by my hands. It was though my choice years ago to not have children and wait. For that I consider it my fault because there were ways for me to have children by either IVF or adoption. I waited far too late and I got worse with my Idiopathic Gastroparesis. I blame myself.however I would never blame myself for being sick. I didn't choose to have paralyzed organs. It just happened.
So this evening instead of allowing the stress from everything win me over I decided instead to turn on my favorite holiday CD and wrap some Christmas gifts to put under the tree. So I might not have children to help me but the fur kids sure didn't mind. They were great company as each of them took a spot near Mom on the couch. Some things even my condition can't take away. Amen.
"One of the truest tests of integrity is its blunt refusal to be compromised."
Posted by GastroparesisAwarenessCampaignOrg. at 11:59 PM EST
Updated: December 1, 2011 5:39 AM EST