Patience Is A Virtue.
Mood:
happy
Now Playing: Day 582-The Final Road To Survival
All good things come to those who wait and patience is a virtue. I am not just a firm believer of that quote but also a lucky percipient.
Maybe it takes a bit longer sometimes than others. Take for example the holiday decorating this weekend and final touches being added on the wheelchair ramp.
I woke up at 11am this morning by the sounds of a happy hammer and saw. I didn't wait one second but instead took my pillows and blankets then made my way to the new chair in the back bedroom. I was still very tired so in no time flat I fell right back asleep.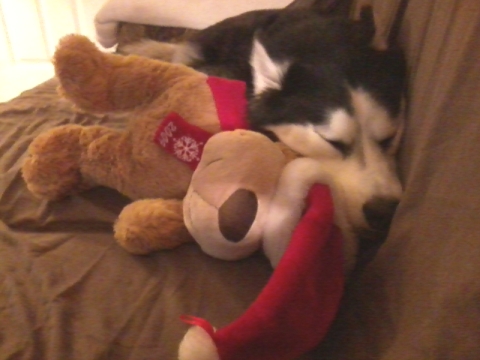 With all the weekend hustle and bustle around the house I guess Littleblue and the gang were so tired even hammering didn't wake them up. Oreo made his way back in the room to wake me up at 5pm. Let's just say I caught up on all the sleep I needed! With taking the new medication to fight infection it also makes me very tired. I won't be able to do my next Drano aka Hell-In-A-Jug treatment until Monday. My doctor wants to give my body at least a few days to possibly help the medication start working this way I am not instantly flushing it out with the liquid-toxic poison.
My friend worked his full time job from 11pm till 6:30am this morning then went straight to drill at the Army. By the time he got home and finally was able to sleep it was 3pm. Talking about also being exhausted! He didn't wake up until 8pm as I did my best to be quiet as possible once I got up to let the fur gang outside.
Littleblue must be having a lazy day too because once I started my second round of holiday decorating she took her stuffed animal friend and went back to sleep.
Once my friend woke up he got a bite to eat then helped me get another tree out from storage. He did admit this was the first year he put up a Christmas tree and decorated it. I tend to think its just a 'Guy thing.' Tonight was his lucky night seeing we decided to get the GP tree and decorations out. This is a pre-lit tree so much easier to put together. The GP tree was an idea from fellow Gastroparesis patients back in 2009. It was a way for everyone to decorate a tree by sending their own unique ornaments raising hope for a Gastroparesis cure. I like to call it, "The GP Tree Of Hope." Either way my friend did an amazing job putting the tree up and helping to decorate!
I might not have the Elves this year to help me but thank goodness for another set of helping hands! It was a far less exhausting day setting up holiday decorations although there are still three trees left we decided to finish them up tomorrow. By 11pm once we got situated and I sat down on my couchbed I looked over to see my friend passed out on the recliner sleeping. I guess even he can't keep up with the fast pace of Santa's Elves, hahahahaha!
Posted by GastroparesisAwarenessCampaignOrg. at 11:59 PM EST
Updated: November 21, 2011 8:53 PM EST