It Might Be Monday But I FEEL Productive! ;0)
Mood:
sharp
Now Playing: Day 577-The Final Road To Survival
Wow! Thanksgiving is only a few weeks away then you know what is next, CHRISTMAS! Where the heck does the time go? I know! One jug at a time or more like two jugs a week at a time, hahahaha! At least since the darn Drano didn't work during this treatment I saved some trees along the way! I wonder how many sheets it takes per jug of liquid courage? HAHAHAHA!
With it being Monday and a darn warm one outside too with this crazy weather it was a perfect time for me and my friend to finish up the last of the house cleaning. Maybe by continuing to move around I can move this blasted Drano out of my system although that is wishful thinking since I didn't get any further relief this morning or afternoon. You just never know how it will hit you and there isn't a doctor in the world who can figure out my scientific internal organs so things remain a mystery. Including the torturous weekly treatments.
My friend thought it was a good idea to head to the store which is right down the street by my house before the huge storm and cold front comes through this evening. At least with the store being so close to home I can make a quick run to the bathroom if need be but that as well was wishful thinking because the ole Hell-In-A-Jug continued the remainder of the afternoon to do absolutely nothing. Zip. Zilch. It was also a fast run through the store because when the nightmare poison lingers in my body it makes me sick, nauseated and BEYOND MOODY! WATCH OUT! Hahahaha!
I didn't need to say anything to my friend because they have taken a few glasses for the team on a few occasions. Once we got home we rolled up our sleeves and brought back out the cleaning supplies. By 6pm we finished up the rest of the house which included two bedrooms, the upstairs hallway, upstairs bedroom and second bathroom.
IT FELT GREAT TO BE PRODUCTIVE!
Let's just say too much of a good thing is too much of a good thing and if my back could just separate and walk away this evening it would had done so because I was on fire with pain! I see my Neurosurgeon in a few days and know I am in for a good scolding. I won't deny being a bad patient but gees cut a gal some slack after years of going through nothing but pure hell. Amen! Once we finished up cleaning I figured it was a good time to take a shower and clean up while my friend cooked his dinner and finished the laundry. I got the PacMan World game on Wii as one of my birthday gifts so while I gave my body a much needed break and read the paper my friend got his Wii game-face on and enjoyed the remainder of the evening.
All good things do come to an end and it also holds true for my friend seeing his three day weekend came to a close. Back to the jail as he always says to babysit the bad guys, hahahaha! Just part of being a sheriff. I think he almost shed a tear as he headed out the door, tears of joy maybe to get away from me and all my moody-glory! HAHAHAHA!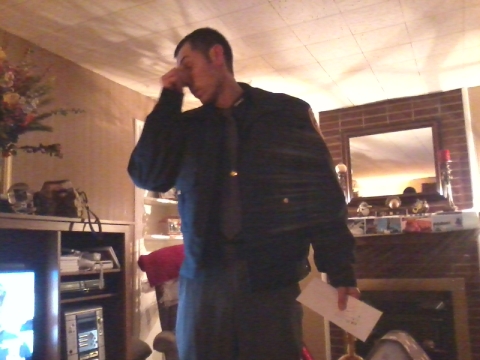 Posted by GastroparesisAwarenessCampaignOrg. at 11:24 PM EST
Updated: November 15, 2011 12:01 AM EST