Am I Winning?
Mood:
vegas lucky
Now Playing: Day 833-The Final Road To Survival
Gastroparesis should have another name called, "RUSSIAN ROULETTE." If this darn weekly Drano aka Hell-In-A-Jug treatment had a name it would be called, "RUSSIAN ROULETTE THE EXTENDED VERSION."
That's how it feels to me anymore. Treatment now lingers for so long that by the time I start to feel better I have only two FREE-DAYS days before the next treatment begins. Tell that also to my angry insides and fused intestines that once again called for emergency care since darn Drano is having a hard time even with the assistance of gravity. The amount of constant moving is enough to make anyone feel exhausted! Ask the ER doctors who don't know how I do it but do have one question, "How much longer do you think you can keep doing this?" Hmmmm....that is the exact same question all of my specialists are also asking. The answer is I don't know because my brain is still in fight mode although my body is starting to slowly win this game called, "Russian Roulette."
Maybe this was just another day that "wishful" thinking would had just told me if I didn't have to keep my body moving I should had just stayed on my couchbed with Littleblue and her stuffed animal fur kids.
Yes, she is still in Mommy-Mode which now makes her stuffed animal puppies 2 weeks old as of today. Hee,hee,hee...Shes still cute as ever and also continues to help her own Mom from thinking about the constant pain of her twisted organs by staying closely to my side.
The heat and humidity have once again arrived today. The wildflowers are sure loving it but so are the weeds. Before having to make an emergency visit Eric spent the early afternoon hours helping to run through two rechargeable batteries for the weedeater then baking in the sun while cutting the grass. I always try to help. Key word "TRY." When once again your brain wants to do what your body is not capable of very seldom will you succeed. I guess the rest of the weed eating will have to wait until tomorrow once both batteries are recharged but at least he was able to finish up the rest of the other yard and outdoor projects.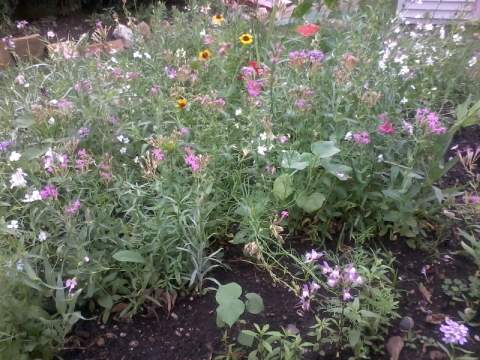 Cuddles kitty who lives with heart murmur problems is doing as well as one kitty can be. Oreo's medication continues to help him have less frequent seizures. Pumpkin and Precious kitty are finishing up medication for allergies which has been causing them sneezing and watery eyes. Bear kitty has been healthy as can be and continues to play babysitter to Littleblue's stuffed animal puppies.
Me?
I am here. I am still breathing, walking and living the Gastroparesis life. Family stress? Well...you can't have it all right? Some things in life never change and hope can sometimes only be a four letter word but I am doing better by not beating myself up about things I can not change. Eric said, "Just remember you must continue to hand the baton over to me because your body doesn't need the stress. Most people would had given up after the first, second or even third try reaching out to family but you never gave up so be proud of yourself." I agree and for now I must continue being focused on my health because there is only one me.
Posted by GastroparesisAwarenessCampaignOrg. at 11:59 PM EDT
Updated: July 23, 2012 4:11 AM EDT