Time To Pass The Baton.
Mood:
chillin'
Now Playing: Day 831-The Final Road To Survival
Yep. You guessed right. I didn't get much sleep but I did do a whole lot of tossing and turning. Chalk up Littleblue too! Between both of us we were up and down all hours of the night into the early morning hours before finally waking up around 2:30pm. Typical Drano-treatment experience. Have I become a Drano-Pro by now? NO. This will be a very long weekend, one filled with plenty of walking to keep this latest treatment moving inside my paralyzed GI organs.
Today after a few rude awakenings I have decided to pass the baton onto my dear Hubby who gladly said, "NO problem!" Let's just say I have a big enough battle on my hands being sick and dealing with the constant changes due to my Idiopathic Gastroparesis in which none are positive. I don't have time to keep holding up the walls built by others who are trying to take me down. Take for instance old female friends here in the city that I haven't seen in over 13 years who some how take enjoyment in making "fun" of me on the ole never ending gossip site, "Facebook." Yes, the same social network that to this day I say is, "Trouble waiting to happen." I am guilty of recently re-activating my page in order for Eric to stay in touch with those who would need to know if something would ever happen to me. It has also come in handy keeping others updated on the 3rd annual "United GP Walk" however... Unfortunately its also a damning place to find out about those so called female friends from years ago who instead of recently caring about my well being only added onto the wall by making a mockery of me and my health. The one I have been holding up until day. Now the baton has been handed off along with the wall.
Nothing quite like being spoken in past tense. "HEY! I am still here!" I guess no one knew because they were too busy building the wall around me. Life is a constant learning lesson and sometimes when you learn the hard way its the best way. Amen.
An amazing fellow GP'er reached out to me this week regarding his own personal journey. He also shared with me the incredible software he developed in hopes of helping other organizations. The most ironic part was learning he too suffers not just from Idiopathic Gastroparesis but also seizures. YES! Seizures!! FINALLY! someone who truly understands what I am going through when it comes to seizures. Thankfully he has found a seizure medication that helps to keep them a bit better under control. My Neurologists unfortunately still haven't found my magic seizure pill. After four years they are still on the look out for any new medications that might finally do the trick for me. In the meantime I am making sure to heed any warnings and always keep my cell phone by my side in case Eric is at work and not at home. Nothing is worse than having a seizure when your by yourself but it has happened on a few occasions. That's life. GP life in a nut shell for ya!
After a day full of battling stress creeping around the corner we took a short walk at the park to visit the baby ducks. They aren't so little anymore, in fact they are both growing bigger by the day!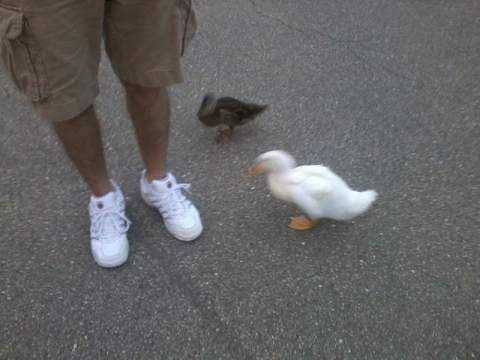 Once we parked and walked near the lake here came the little ones as they quickly waddled their way towards our feet. What a priceless life event to experience two orphaned ducks working past their struggles in order to find acceptance by other feathered friends. Sometimes the best things in life you truly can't buy. AMEN!
"Things aren't always as they appear. Sometimes what seems to be the end is really just a new beginning. Like a caterpillar turning into a butterfly.
I remember a time when it felt like nothing could go right. The whole world appeared to be teamed up against me. But I kept on moving forward, even when I couldn't tell exactly where I was going.
I found in life it's not about attaining a goal. What's most important is who we become during our pursuit."
"We can not direct the wind but we can adjust the sails."
-Author Unknown
Posted by GastroparesisAwarenessCampaignOrg. at 11:59 PM EDT
Updated: July 21, 2012 4:15 AM EDT