The Truth Shall Set You Free.
Mood:
quizzical
Now Playing: Day 823-The Final Road To Survival
Congrats to Littleblue! The proud Momma of now 14 stuffed animal babies including hedgehogs. Hee,hee,hee,hee...
Just when we thought 11 was enough here we are with 3 more babies! She sure has been a handful moving all 14 stuffed animal babies under the side table then back once again on the couch. Talking about over protective to say the least! Move one of her fur babies and be warned. Not like her ears plastered behind her head isn't a big enough warning but once she adds a slight growl it surely lets you know she means business. At least we only have four more weeks before the babies are old enough to be ummm....Sent off to stuffed animal land? Hahahaha... All in all, its still cute to watch and now instead of just walking Oreo and Littleblue we also have a baby she tags along in her mouth.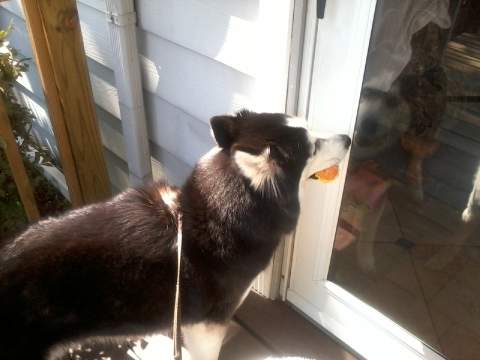 Eric took a third step today in his own direction to finally put a stop to family contacting his place of employment and causing problems. Thankfully we have phone records that match days and times that didn't add up to days he was "supposedly" contacting family during work hours. The problem with the story when family contacted his employer was he was "off work" those days. Also family must had forgotten my treatment days and not getting sleep. I also had to place at numerous times over the past eight months blocks on my cell and home phone so family would quit causing stress. The phone records not only showed when the blocks were placed but as well when they were taken off and family once again within that same day contacted me. I don't believe in here say and neither do employers. Needless to say with a no contact order in place Eric also got a heads up if family ever contacts his employer again the necessary steps will be taken in order to protect him. As for myself I will be making a few last minute changes on my end late next week to protect myself and any further harm placed on my health due to family interfering in my health care and contacting my physicians. My doctors are busy enough and don't have time to deal with family. As they clearly stated a few months ago, "They need to make a choice to be either in or out. It is their choice to be a supportive family and step up."
They are out.
Since the stress caused by family put a halt for two days with my treatment I now have to endure it one more time this weekend. Yesterdays treatment didn't work and its to no surprise when your insides are fighting two battles. This should be a clear example for me to finally GET IT and understand if family understood my condition they would had respected the hell I go through doing treatments and not added unnecessary stress. AMEN. Its OK though because here on out I won't have to worry about holding off on treatment and now maybe I can get back on a schedule. I did have an important appointment to have my lymph nodes rechecked by my Oncologist/Hematologist today "however" its like the domino effect. Stress=no treatment for two days=having to catch up on treatment=no sleep=doctor wants me to reschedule so I can rest. Crazy isn't it? Yes. It is.
Eric looked at the calender and tomorrow is Friday the 13th. That can only mean one thing. At least the monsters are no longer in or around the house. Hahahahaha! Isn't Drano aka Hell-In-A-Jug scary enough? BOO!
Posted by GastroparesisAwarenessCampaignOrg. at 11:53 PM EDT
Updated: July 13, 2012 2:41 AM EDT