Trying To Control Symptoms...
Mood:
chillin'
Now Playing: Day 816-The Final Road To Survival
This is the first time since the monsoon rains in May that I was happy to have the sound of rain wake me up. We not only need rain desperately but it also helps cool things off a bit outside. They are calling for 100+ degree days until Sunday. UGGGG! Its going to be a very long upcoming weekend and hopefully the heat and humidity won't put a halt to the gutter and drain work being done around the house. We really need to get things finished and finally wrapped up soon. VERY SOON!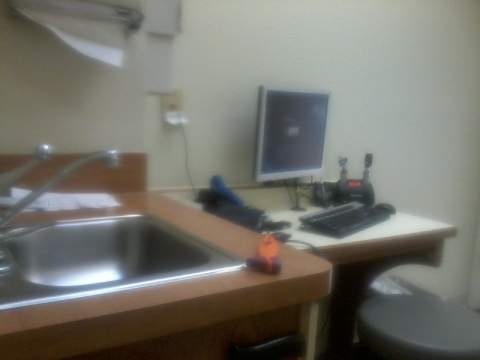 I had an appointment with my doctor this afternoon in hopes of finding some sort of relief from the lung pressure due to my darn intestines. Depending on what type of symptoms need to be managed depends on which specialist I have to see in order to be treated. At least my doctor's office today is only around the corner from my house so we could also run some errands. My doctor was running an hour behind but he is worth the wait! He is very thorough and understanding to what I go through on a daily basis. Of course its difficult to treat my symptoms and sadly my doctors have to get very creative! They have a lot of responsibility on their shoulders handling my care but they always do their best with what medical technology has to offer. With Gastroparesis and my connected problems sadly it isn't much but at least they "try" and give 110%. We went over my surgeon appointment or what I like to call, "Dis-appointment." After my specialists have dug deeper into my past as an infant they are all getting a better understanding and clearer picture of a GI lifetime of problems. My doctor said, "Sometimes the best surgeons in the world are those who know when not to perform surgery. You have now seen four surgeons and clinics who have went over your unique medical situation. Sadly surgery will not help you. I am not sure if it ever did but things continued to progress. At this point you are dealing with a huge problem, Gastroparesis & a toxic/mega colon. The colon is stretching and applying pressure so right now we need to focus on what we possibly can do to help but its not a promise." Reality is hard to face and so are the facts. For now my doctor has me taking a few new medications, inhalers and an emergency inhaler. He isn't sure how long I will have to continue taking them because with my body only time will tell. He was delighted to hear I got married and found someone who truly accepts me for "Me." He said, "Support is very important when you are battling an illness for the rest of your life. You only need one strong person to be by your side." We went over a few other tests then he got my prescriptions and other sample medication together for me to try in case the other drugs don't work.
After my doctors appointment we ran a few errands then went home to give Oreo a bath. He wasn't too happy about it but behaved extremely well! Littleblue's turn will be tomorrow because with her hair it will take a lot longer than it did with Oreo.
Yesterday was BearKittys 14th birthday. Since we had company over and I was limited on energy we decided to instead celebrate this evening. Eric laughs at the gang seeing he said, "They sure do know when its their birthday. They act just like kids, even playing with their toys after the celebrating is done." Cuddles also got to enjoy Bear's new toys while Precious and Pumpkin helped finish off some can cat food. Oreo is the last to celebrate a birthday this year. He will turn 14 in December. Hopefully there will be many, many more birthday celebrations for all the fur gang to come!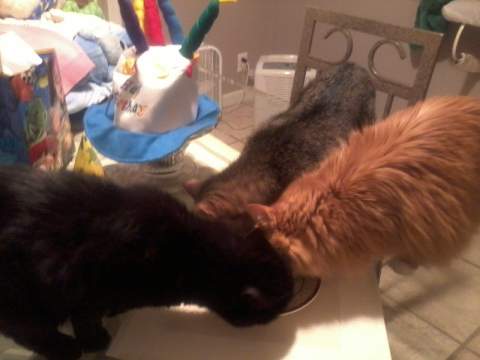 "Pets are not our whole life, but they make our lives whole."
Posted by GastroparesisAwarenessCampaignOrg. at 11:50 PM EDT
Updated: July 6, 2012 2:20 AM EDT