2018~OUT With The Old... IN With The New! :)
Mood:
lucky
Now Playing: Day 2926-Chapter 3... Happiness~My Silver Lining
You know what I love most about the start of a new year?
The chance to start over and do things right!
So many opportunities to live life to it's fullest! The chance to take what you have learned from last year and apply it to a new year. Live, learn and keep on, keeping on!
Today was all about... OUT with the old... and IN with the NEW!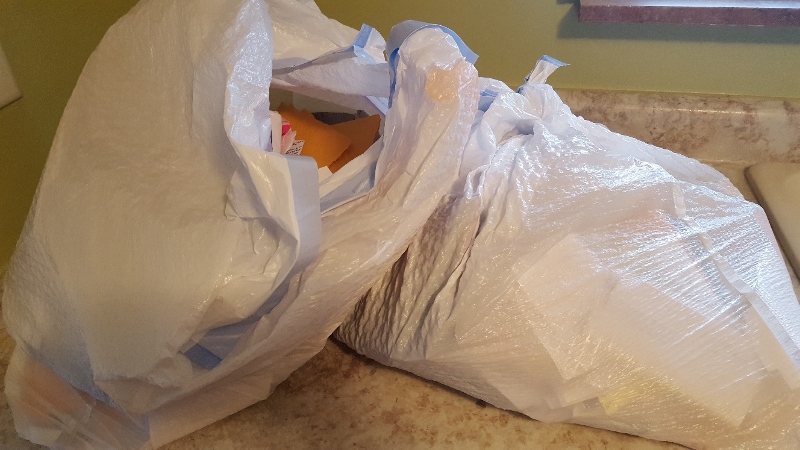 Two huge garbage bags of old shredded documents from over the past year. Crazy isn't it?! These are literally all sorts of documents from far too-much-stress, unnecessary stress, that we endured over the past 12 months. I promise... it will never, ever, ever happen again. As I sorted through page after page of mere ridiculousness. Eric said he could hear me mumble my frustrations out while he was attempting to sleep. HA! Letting it all out... one page at a time. When you make the decision to free yourself from any and all unnecessary stress that comes from negative folks. You know what you learn the most? Just how immature some folks can really be when they lack the maturity and knowledge on how to communicate. Communicate effectively. Instead of running to judge after judge. Why not instead run to a counseling office or book store and learn the art of being an adult and how to communicate.
Yesterday was going to be the start of another war of unnecessary, sheer nonsense. This time... with Eric's side of those whom he no longer has contact with here in the now or in the future. But with great counseling over the years. We finally took all that really good, solid advice and sprung into action. We did everything in our power to make sure that little unnecessary war of immaturity and lack of communication, never has the chance to proceed forward from the here and now. We put a quick stop to it. Unfortunately, that also meant putting the brakes, permanent brakes on a few relationships that are now... no longer. I personally refuse to take part of any mental games with anyone, at any time, here or moving forward in the future. Especially, when it involves any young adolescents under the age of 18.
Life is just far too short folks. Especially to let anyone try to rain on your happiness parade. Attempting to pour a bucket over your beautiful, glowing, beaming ray of light. Like... how my face will be looking after a really good charcoal therapy mask!
We certainly do need more good, kind, compassionate folks in this world. I have seen far too much negative, hostile, combative individuals over the years. And I have come to a point in my life when enough is enough. I firmly believe that when you place under age young folks into the mix. Using them as a boomerang of some sorts among their parents. You in turn are crossing a boundary and making a choice that could have permanent consequences. I don't believe in playing young folks against their parents. I believe that when anyone does such a thing, it is not only inhumane. But down right crazy.
It's unfortunate that I have been front row to far too much chaos over the years. However, it really has made me a much wiser person with a far bigger heart for the underdog and all black sheep within families.
*HIGH CLAPS-LOUD APPLAUSE*
At the end of the day. We all must remember, that this is a new year. A chance to start over and do things the RIGHT way! Take what you have learned over the past 12 months and make sure to embrace the learning experience that it has given you. No one is perfect. Not one single human being in this world is perfect. But we all can really benefit from choosing to be a far bigger and better person today. Than who we were just a mere 24-hours ago. Even a year ago.
Take this new year and new opportunity in life to make those much needed significant changes. Only then will you find yourself truly, undeniably, selfishly...
HAPPY!
2018~OUT with the old... IN with the NEW!
Posted by GastroparesisAwarenessCampaignOrg. at 12:01 AM EST
Updated: January 10, 2018 11:37 AM EST