A Special Gift.
Mood:
chillin'
Now Playing: Day 2916-Chapter 3... Happiness~My Silver Lining
I believe in signs. I believe in gut instincts. I also believe there was very valid reason that two surgeries had to be postponed, time and time again.
This is the first blog entry of quite a few that I am beginning to catch up on this evening. Going back in my mind of the past week. Actually... the end of 2017 and the beginning of a new year... 2018.
There was every bit of a really good valid reason on why surgical procedures had to be rescheduled over the past few months. Physically, my body just wasn't ready. Mentally, I had yet to close some doors in my life... permanently. I most definitely believe that no matter what type of surgery you are having to any part of your body. You must first be ready in every way, shape and form. Physically, spiritually and emotionally.
After finally putting all the silly shenanigans away that had been causing me stress and the inability to focus on far more serious issues. I finally had the opportunity to focus on far more important matters with my health... surgery. It may have taken awhile, but this morning was the first step in realizing two long awaited surgeries. It wasn't a choice. It was a must. Regardless of what type of surgery you may endure at some point in your life. There will always be risks involved with going under the knife. For those whom may never have to endure any type of surgery in your lifetime. Consider yourself lucky.
With any surgery, comes the risks that are involved when you go under anesthesia.
As I am now taking the time to catch up on blog entries over the past week. I am very fortunate to now be on the other side of surgery... recovery. The safe side after suffering surgical complications. Having pre-existing issues places anyone at a far greater risk of surgical complications. This is why when surgery is a must, not an option. One must be prepared both physically and mentally. It takes one heck of a surgeon to be okay with not just taking on my highly complex, complicated medical case. But to also understand that surgical complications can sometimes not be avoided, no matter how many precautions one may take before surgery. And I must say... my surgeon took a lot of measures in order for me to have the safest surgery possible. Without complications. But you can't predict the unpredictable.
I do not have much recollection of the next 24-hours during and after surgery. But I can tell you one thing. There is an afterlife. I am not sure what you would call as far as what I was able to remember with going to a specific place and remembering one very particular face. One particular face that I have never met before in this lifetime. But after finally waking up and coming to while looking down to see Eric holding my hand. The very first words that Eric said came out of my mouth were of those perfectly describing his grandmother. I know where I went and I know who was waiting for me. Along with others whom I can only hope to one day put names with those faces that surrounded me.
This isn't the first time to have encountered such a place that not only enlightened me. But angered me that I had to leave such a peaceful, beautiful place outside of anything of this world. I believe that place to be called, heaven.
Thanks to our dear friend, Mary and our very first live Christmas tree. Our friendship with Mary is a very special and most sacred one. We both share a very special gift. The gift and ability to connect.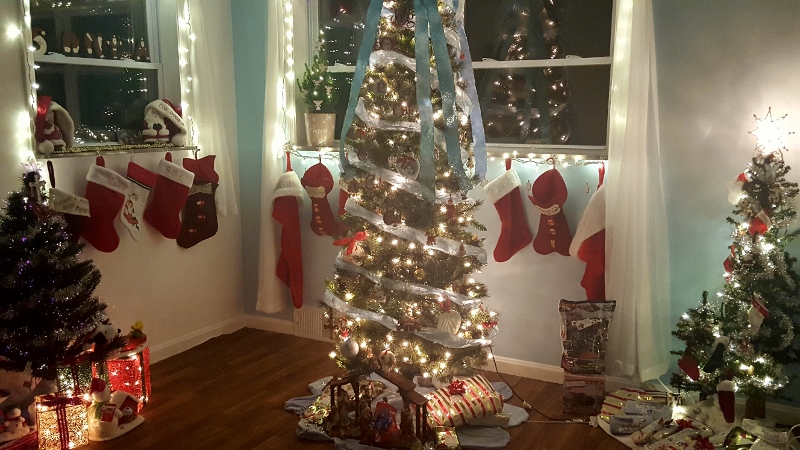 Posted by GastroparesisAwarenessCampaignOrg. at 12:01 AM EST
Updated: January 3, 2018 1:01 AM EST