A New Recipe... By Little Ole Me :)
Mood:
bright
Now Playing: Day 2914-Chapter 3... Happiness~My Silver Lining
Don't you just love the look of real stained glass windows? Especially during the winter time.
Wait a moment... it IS a real stained glass window... made of ice. BAH!
Guess we really don't have to worry about dryness from not having a humidifier during the cold winter months. We can just take in the moisture from the thick ice instead!
Pfffff
!
This is what happens when prior owners fail to keep up with general house repairs and over all proper maintenance of their home. Sealing all windows... inside and out. This isn't our first time sealing this entire window. Oh no! This is our second time sealing the entire window due to continued shifting of our foundation. Going d-o-w-n-h-i-l-l all the way...

Another quick repair calls for some serious energy!
And just like that... a new recipe was born!
HOLIDAY ENERGY BITES
This recipe is easy to make and doesn't require an oven to bake. Simple ingredients that you may already have in your refrigerator and kitchen pantry.
All you need is a medium size mixing bowl, large spoon and a plate that is freezer safe!
I made a dozen, but you could easily double or triple the recipe ingredients to make a larger batch of Holiday Energy Bites to share with family and friends.
HOLIDAY ENERGY BITES
1/2 cup of Skippy Creamy Peanut Butter
2 packets of Quaker Instant Oatmeal-Gingerbread Spice
1/4 cup of Bonne Maman Strawberry Preserves
1/3 cup of finely chopped pecans
1 tablespoon of cinnamon sugar
1 teaspoon of real vanilla extract
Smucker's Marshmallow topping
Finely chopped pecans
Silver & Gold edible sprinkles
Mix peanut butter, strawberry preserves, one packet of instant oatmeal, cinnamon sugar, vanilla extract and finely chopped pecans in medium mixing bowl. Stir until all ingredients thoroughly blended.
Pour 1 packet of instant oatmeal on a separate plate. Form batter into small bite size balls and roll in instant oatmeal. Place on freezer safe plate.
Decorate each Holiday Energy Bite with gold and silver sprinkles. Warm marshmallow topping in microwave for 10 seconds and drizzle on top of each bite.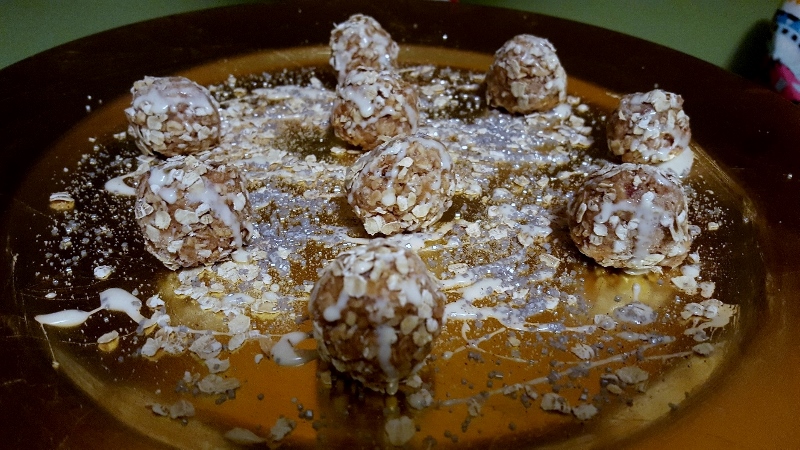 Place in freezer for 20-minutes.
These little Holiday Energy Bites are great for a little pick-me-up during the cold winter months!
HOLIDAY ENERGY BITES
Recipe by, Little Ole Me
Posted by GastroparesisAwarenessCampaignOrg. at 9:08 AM EST
Updated: December 28, 2017 9:19 AM EST