A First For Everything!
Mood:
d'oh
Now Playing: Day 2885-Next GP Chapter... Turning Lemons Into Lemonade :)
How ADORABLE are these two!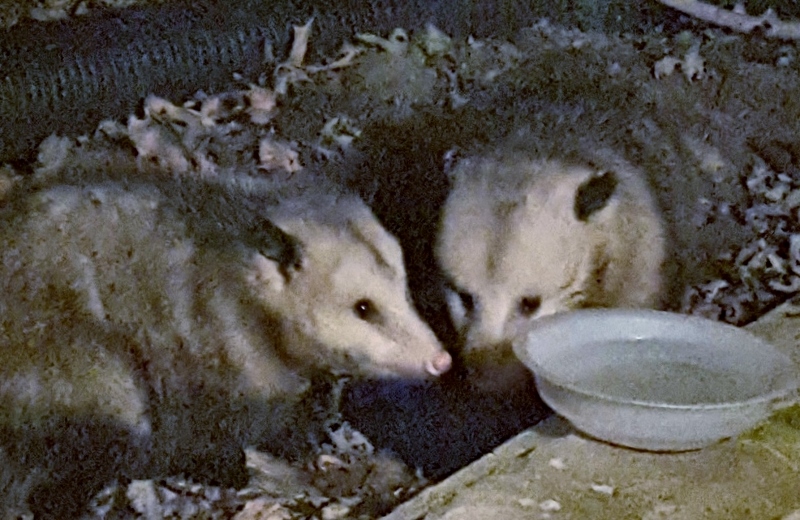 We are finally starting to see our very first possums here in the country. Actually... early this morning while checking on our neighborhood kitties. We have a make shift safe winter haven set up in our spare garage for two of our visiting kitties. Papa kitty & Sweetie kitty who actually looks just like a little snow leopard. She is not only sweet, but super fluffy! Sweetie kitty and Papa kitty have actually grown to become close friends over the past few months. At least now they will be safe and warm through out the upcoming winter season.
If you haven't figured it out by now... loving and taking care of all god's creatures both big and small is a huge passion of mine. They truly are a
blessing!
I finally heard from oncology this morning. It wasn't exactly the news that we were expecting. But it seems that I have to continue playing the waiting game on a few issues at hand with regards to this weeks surgery. They wanted me to head up to the hospital back across state lines early this morning. But with the pain still going through my spine and down my legs from the ovarian tumors. It just wasn't a good idea for me to sit in a car and head back across state lines this morning. I already didn't get much, if any sleep. My pain medication would had worked great if my body could absorb it properly. I never did well with any form of morphine... but there's always a first for everything! I guess we will find out later this evening how well my body accepts a new pain medication from the good ole morphine family. Down right s-c-a-r-y! My medical team is doing everything in their power to make great attempts at getting one step ahead of the game with my health. Being such a highly complex case has proved to be anything, but easy. Friday morning I am scheduled for surgery. When asked if I should proceed ahead on the phone this morning with oncology... I was told to wait and see how I am feeling tomorrow morning.
Today was another day of rest in attempts of snapping my body out of this constant pain and funk. Cutie Patootie Babyblue surprised me by pulling a first this evening. I woke up from a nap and looked over to see Babyblue sleeping in Littleblue's spot on the other side of the couch as she stared back at me. All I could do was look back and smile with sheer happiness. It was just what I needed to bring me out of this funk lately. Another instance of just how much she reminds me of our beloved Littleblue. She must had been sent from heaven... Babyblue
This year, we were hopeful not to exhaust FMLA leave so quickly with Eric's employer. However... life happens. Some things you can't predict and that includes health matters that have continued to progress for the worst yet. Eric has used over 600 hours of FMLA paid and unpaid leave time in the past three years. Lately, it's been unpaid leave which hasn't been easy for our little family. Yet, we fully anticipate that he will need to take further time off from work, unpaid leave, through out the remainder of the next few months. On top of surgeries and surgical procedures. I also have other medical routine testing. Then of course, new medication that holds it's own host of problems when it comes to a first of not knowing how my body will respond. If we never understood the popular website, GoFundMe which helps families struggling financially. We fully understand it now. Families that need assistance when there is no further paid leave time to be with a loved one at the end of their journey. Right now... we remain hopeful things will all work out by the grace of God. We live for the moment, the minute, the hour and the very day that I am given on this journey. Some say... you have to walk a mile in someone else's shoes to fully understand what another human being is going through. Myself and Eric couldn't agree more.
So... as I call it a day and begin a new pain medication from the morphine family. It appears that someone else took over as the baking assistance for Eric this evening. You know... it's a good thing that I never really cared for Snickerdoodle holiday cookies.
Although... we might not be able to say the same for Snoreo. Hehehe
hehehe!
Posted by GastroparesisAwarenessCampaignOrg. at 12:01 AM EST
Updated: November 30, 2017 1:24 AM EST