Signs Sharing Signs :)
Mood:
happy
Now Playing: Day 2740-Next GP Chapter... Turning Lemons Into Lemonade :)
Talking about more signs!
Nothing is more astonishing then once again coming across more signs that are appearing all around us. It was one thing to have a landscaping decorative cat with a blue solar light magically start working again a month prior. It hadn't worked in over 3 years. But July 4th brought with it...Another sign.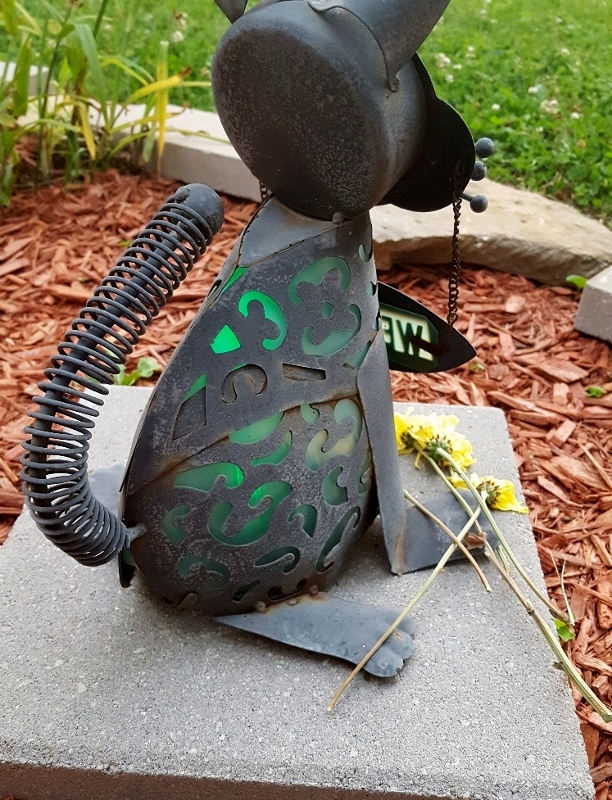 I didn't have just one solar light cat landscaping decoration that wasn't working. I actually had two. Two that I bought after the passing of our beloved Bear and Pumpkin kitty over 3 years ago. Since placing them into our freshly landscaped front flower beds. I had always hoped for both of them to somehow, magically light up again! A sign to me that our loved ones are back home, safe in Heaven, yet somehow are still here with us on earth. Spiritually. The evening of July 4th. I got my second sign as myself and Eric got home that evening after taking Snoreo to our local dog park. What we found waiting for us was quite magical! It instantly brought a smile to both of our faces! We need not say a word. No words to those whom...BELIEVE. It didn't dawn on me until later in the evening as I looked at our wall calendar. July 4th was the day that Bear kitty was rescued from a home that had over 50 cats. A tiny black kitty with tons of fleas that sat patiently in my truck while being taken to his new home and washed away from all fleas. Over 18 years of such unconditional love that he had given me.
While getting my tools ready to continue finishing up the dining room remodeling project. I felt the need to get a few pieces of our ITC equipment out as I placed them on the kitchen counter. Nothing really happened as the energy was actually quite calm within the house. What happened later after cleaning up and finally resting on the couch. Another sign. An answer to a question possibly allowing me to share the magic that is still alive as ever with our loved ones. Those whom still visit us from Heaven.
As I asked one question and one question only before turning off both pieces of ITC equipment. The energy instantly became thick as molasses. "If there is a loved one with me right now. Can you tell me the name of who is sitting next to me on the couch?"
I am still well taken back by not only the accurate, but quick response! I may not have the ability to always connect on a daily basis. But the special gift that began as a young child is still strong as ever! Happy? You bet! Eric's facial expression was lost for words last week as I began explaining an elder woman whom insisted that potato salad is on the table at all holiday festivities. Has to be egg potato salad as someone else threw their hands up in the air shouting, "You all need to go back to bed!" Eric looked at me with tears in his eyes and said, "That is my Grandmother and my Aunt. We always had potato salad and us cousins would spent the night at our aunts when we were younger. Talking late into the evening and my Aunt would come into the rooms where we were all scattered. Throw her hands up in the air and say those exact words for all of us to go back to bed."
Here is another amazing story that I am sharing from Steve Huff who also has a special gift. The ability to connect.
Enjoy!
In my teen and into my 20's and 30's I was never one to believe in ghosts, spirits or anything paranormal. In fact, for most of my life I was a skeptic even though I always have been fascinated with the afterlife, what happens to us when we die, and how all of this (thing called life) started. I mean, think about it. We are all sitting on a big ball called earth that is floating out in space rotating. When you think about that, it sounds insanely crazy but we all accept it as it has been proven to be a fact. But on a big ball, floating in space, the human race with all of the intelligence and technology. If that is possible I said, then ANYTHING can be possible.
While I am not religious, I do believe in a God, a creator and over the past few years I have believed it more and more. These days, after experiencing all that I have I KNOW there is something out there and I know that we continue on in some way, possibly in a spiritual world where love is the #1 priority.
My Best Friend
My dog Scrubby came into my life when he was about 2. He was rescued from the dog pound and was a mess when we picked him up and chose him on that hot summer day. His hair was over his eyes, he was smelly and filthy and looked like a broken dog both physically and mentally. I had no idea what his background was but I do remember him being the sweetest dog ever though he seemed afraid of us at first. Like a scared child.
Scrubby was the most amazing dog I have ever owned in life, and throughout the 13 years I had him he was always faithful, always there for me, always by my side when I needed him. When I was going through a divorce after a 15 year marriage close to 5 years ago now Scrubby was plastered by my side always seeming to look up at me saying "cheer up Dad, I am still here"!
That dog brought me through some tough and stressful times. I felt his love and gave it right back.
Scrubby never had a mean bone in his body yet he would risk his life if it meant he would save mine. Dog's are faithful like that and I have yet to meet a person…a human… who can match a dogs trust and faithfulness. They have hearts of gold and are innocent as a newborn baby. They do not know anger or think bad thoughts. They are as positive as they come. A dog becomes very much like one of your own children..a family member that sticks with you to the end. That is what makes it so hard when they have to leave you.
When Scrubby was around 15 or so he became frail and fragile. He had a very hard time walking and on his last days I laid with him on the floor slowly petting him. He gave me a look as if to say "Dad, I am ready".
I took him to the vet and she agreed that it was his time. Usually Scrubby was afraid of the Vet but this time he just laid down on her metal table as if he knew what was coming. He looked peaceful and he looked like he was telling me "it is OK Dad, I will still visit you". I will always be your best friend.
After some alone time with him to say my goodbyes the doctor came back in to explain how it would work. As I held his paw she gave him the medicine to put him to sleep. I broke down and cried of course and gave him one last hug as he was wrapped in a child's blanket.
Scrubby was gone and I missed him. A couple of days went by and it was July 4th. Brandon and I had some smoke bombs and we thought we would try to see if we could do something that was pretty much impossible. Catch an image, a glimpse..one look at Scrubby to see if he was still around watching us. I have done spirit ITC photography before but because my emotions were so high I figured I would give it a shot with smoke.
We set up a cup and smoke bomb and lit the fuse. As it was blowing smoke I said "Scrubby, we still love you. If you are here or can come down and show yourself to let us know you are OK that would be amazing". I then took three images with my digital camera.
When I looked at the photos, one of them stood out and I saw Scrubby plain as day. I started to cry.
This is the image with a pic of him next to the smoke for reference….

You can click that image for a larger view but to me it was unmistakable. I saw him one last time and he let me know that he is indeed OK. No more pain. ON command he appeared in that smoke for 1/60th of a second and just so happened to be right at the moment I asked and snapped the shutter.
Now I have shown this picture to many people and every one of them saw what I saw, even the full on skeptical ones. Of course the skeptics have various opinions from "you faked it" to "its a coincidence that the smoke lines up just right"..to other nonsense.
First of all, nothing was faked..at all. If you feel it was I suggest you do not come here anymore as your mind is so closed nothing could ever open it. Second, what are the odds that in one picture, after I asked him to appear that there would be a form that looks just like him? What are the odds? I think I would have a better chance of getting struck by lightning.
I have taken around 7 photos in the past three years that have a spirit presence in them, all on command after asking for them to appear. I do not do this very often, only when I feel the need, or a "push" to do it. It never ceases to amaze me but this one was the most emotional for me because it was right after Scrubby passed and right after I asked for him to appear.
It is amazing, it is special and it a mystery as to how this happens but one thing I think is true and that is even our pets come back to visit us from time to time.
Steve
Posted by GastroparesisAwarenessCampaignOrg. at 12:01 AM EDT
Updated: July 7, 2017 2:07 AM EDT