I Need A Break.
Mood:
chillin'
Now Playing: Day 848-The Final Road To Survival
If only us GP'ers could get this excited over food!
Hahahaha! Well...at least the fur gang and Bear kitty who "thinks" he is part dog agrees that this new food is DELICIOUS! This is also why at night we now have to put the food bowl up. Put a bag of food in front of someone who has Gastroparesis and we might as well start the barfing a bit early!
Its already starting to be one strange week and even after having a good first of two doctors appointments today stress was waiting for me once again when I got home. I give up and must admit I have had quite enough of this nonsense! Its time that maybe I take a break and get away for awhile. Since I can't get out west just yet for the big move my fellow GP friend Gabe who was in town this past weekend instead offered us his rental cabin in Tennessee.
HOW NICE WAS THAT?!!
It would only be for 4 weeks but heck! 4 weeks would give this gal enough of a break to revamp/recharge my tired body and brain. My doctors also agree that I really need to clear my head and maybe that will help the horrible anxiety caused by this cities relentless stress. For now they don't think its a good idea flying but when it comes to driving they are leaving that decision up to me. We would have to stop every hour and walk around so my spine doesn't lock up but I really should give this amazing offer from my dear friend some serious consideration! Eric has plenty of vacation time and we could bring the fur kids. Two of his friends in the city said they would come over and watch the kitty gang. We could even leave early if need be because I highly doubt I could stay the entire four weeks. Maybe one if I am lucky! Gabe left the offer on the table and said, "Its all yours if you want to get away because I think you both really need a break."
AMEN!
AMEN! AMEN!
I have my last doctors appointment later this week so that should give me a better idea if its a NO or GO! I am hoping for the latter. Since fall and mid September is just around the corner it might be the best time to break away from the city. It will also "HOPEFULLY" be much cooler by then so my GP won't be so volatile unlike the constant heat and humidity over the past three months. I also have GP family and friends who live within an hour drive from the cabin. It would be very nice to finally visit with them.
THANK YOU SOOOOOOOO MUCH GABE for offering us a beautiful cabin get away and like always, time will tell (and my insides) if we can take that much needed break.
Xoxoxoxo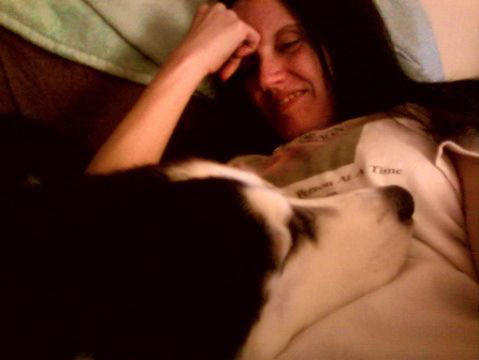 Posted by GastroparesisAwarenessCampaignOrg. at 11:59 PM EDT
Updated: August 7, 2012 3:57 AM EDT