Trying To Catch A GP Break!
Mood:
happy
Now Playing: Day 843-The Final Road To Survival
With only having 2 days of freedom left from the dreaded Drano aka Hell-In-A-Jug we thought it would be a great idea to meet some friends later this evening to get me of course out of the house and also give Eric a break! Its been a LOCO week and my nerves have been shot! Its getting rare to find any sort of break and since I thought today was a good head day and maybe I could have a chance to get away we made plans to go out this evening. Of course this was after the sun goes down and us Vampiressssssss (those with seizure issues) can break free.
We have finally be able to catch up on some much needed rain the past few weeks although its still very dry and the bushes in the front are already dropping their leaves. What hasn't been starving are all the darn weeds this year. GEEZ! Once you cut them back it seems only days later they return with avengeance. Sometimes I have a "denial moment" and believe maybe, just maybe it was all a bad dream and I am normal again. Its in these moments and lapse of thinking that tend to always get me into trouble.
Like today!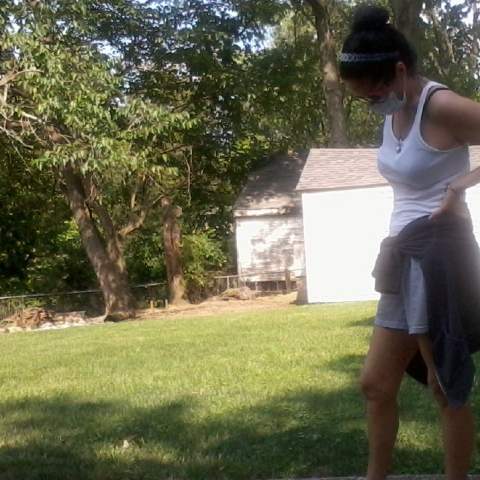 Ten minutes into "thinking" I could help with the yard work wearing my trusty mask and dark sunglasses instead turned into me about passing out in the backyard instead of helping to clean it up. NOTE TO SELF: NOT TOO SMART! It was a good thing my better half was outside with me and noticed my face turning bright red. Needless to say there won't be anymore bright ideas or lapse of judgment for this gal. That's the hard part living with a medical condition that is not only ruthless but you can never determine one minute from the next. My brain still wants desperately to be normal but my body begs to differ. Same with yesterday and sitting for way too long because last night my spine was suffering the consequences and so were my intestines. Today is all about keeping my body moving without having a heat stroke. DUH ON ME!
By the time we both finished doing the rest of the chores in and around the house it was already time to take a shower and get ready to head out for the evening. We decided to meet everyone around 8:30pm and drove separately just in case my GP payed me an unwelcoming visit. I did fairly well with just a few minor head and stomach issues-nausea, slight headache but that's what my emergency meds are for and I refused to not give it my all to finally have some low key fun. It felt GREAT to get out and feel normal for once! I try to keep my medical nightmare private when it comes to Eric's friends. They know I suffer from a incurable medical condition however they don't prey and leave things up to me if I want to talk about it. Its nice sometimes to be ME without Gastroparesis. I call it breaking free from reality if only for a few hours or so. AMEN!
By the time we were all ready to head home there were only three cars left in the parking lot. OURS. Hahahahaha! You know us VAMPIREEEEEEEEES......We tend to be awake at night and sleep during the day. Hey! that's life. My LIFE for ya! We both had a nice time but all good things must come to an end and this gal was EXHAUSTED! Once we got back home my better half did all the night time chores getting my couchbed ready and taking the fur kids outside for one last walk. Needless to say there won't be any sheep counting tonight!ZZZZZZZZZZZZZZZ........
Posted by GastroparesisAwarenessCampaignOrg. at 11:59 PM EDT
Updated: August 2, 2012 4:04 AM EDT