HAPPY FATHERS DAY! :)
Mood:
happy
Now Playing: Day 798-The Final Road To Survival
HAPPY FATHER'S DAY!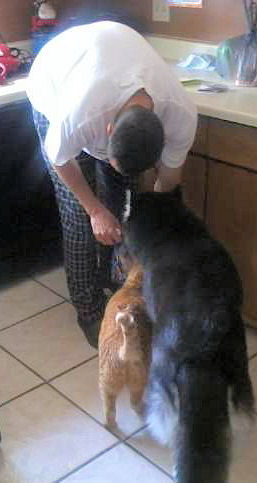 Thank goodness for valium and solid sleep too! I am finally catching up on some much needed rest although still dealing with a horrible GP flair-up and the Drano aftermath. The scary part is I am only days away from the next treatment. Yes. This is getting to be NUTS!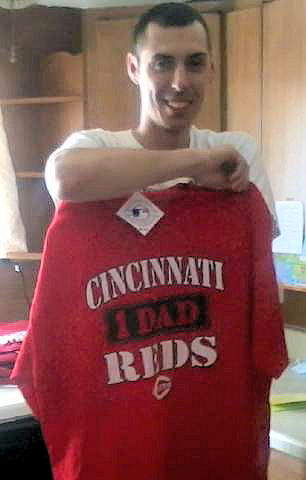 Eric got gifts from the fur kids and a new Cincinnati Reds #1 Dad shirt along with a few cards. He was happy as well to be able to sleep in today. The rain moved in early this morning so at least we won't have to do any outdoor watering to the flower beds. This is a day for the Dads to relax and take it easy. We had family over later this afternoon for a very nice visit then it was off for me to get some walking in before the sun started to set.
The weather was perfect although this will be the last nice day for awhile once the 90 degree weather comes back tomorrow. We both enjoy walking at the local parks and feeding the ducks and geese.
It also helps my stomach and intestinal pain due to my Idiopathic Gastroparesis. Its one crazy GP life that involves trying to do my best to keep moving and allowing gravity to help along the way. Some days I am so beat I have to literally push myself to walk but if I don't there is no sleeping. Hopefully I can make it two days in a row catching up on rest because my body can surely use it.
It was a very nice and low-key Father's day and the perfect ending to a very long weekend.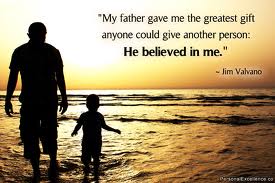 Posted by GastroparesisAwarenessCampaignOrg. at 11:11 PM EDT
Updated: June 18, 2012 1:23 AM EDT