Sometimes Life Doesn't Always Go As Planned.
Mood:
chillin'
Now Playing: Day 771-The Final Road To Survival
You can write it out, map it out and even plan it out but sometimes life doesn't always go as planned.
Take today for example!
This was "suppose" to be the day of new beginnings. That next chapter in my life was "suppose" to begin today. I was super excited and looking forward to taking the first steps in closing one door and opening another but guess what? Things didn't go as planned. The day didn't go as planned nor anything else today went as planned. Even all the post it notes in the world couldn't had predicted today's events.
I laid down on my couchbed rather early last night. 11pm to be exact due to my head was pounding and I had a rather strange aura/sensation. What I should had known was this "aura" was a migraine with seizure waiting to happen. I took two Tylenol and put one ice pack on my face and one on the back of my head. I then got my extra large heating pad out to place on my upper back however I was already a bit too late. When seizure aura comes on you only have so much time to take your seizure medication. I was unfortunate when my seizure problems started four years ago to get the double whammy-seizure with migraine. Its hard enough dealing with any seizure disorder but worse trying to decipher if its a migraine aura you are feeling or a seizure aura. Mine last night into the early morning hours was both.
Let's just say if I didn't have my dear friend-Caregiver living with me I would be SOL! Even with me laying on my couchbed and him sleeping two feet away on the recliner still doesn't prepare you for a seizure. My warning should had been the two hours worth of tremors that would come and go, come and go but didn't actually "go" anywhere. Instead where they went was into a horrible seizure. So to make a long story short around 4am my body went into a full seizure in which I accidentally knocked over my side table full of liquid drinks then since I had my seizure laying on my back I vomited what fluids were in my stomach. My friend luckily was right next to the table that knocked into him so he quickly woke up until the seizure and waves of tremors subsided. Unfortunately after you have a seizure your body locks up and muscles are tensed up so there is no walking.
Needless to say instead of me attending the meeting/appointment that was scheduled two weeks ago my friend had to go in my place. I won't be opening that new chapter in my life just yet and heck with closing any doors. I couldn't even come close enough today to reach the handle. Hahahaha! Instead I must wait another week and pray my Gastroparesis and other connected problems like my head-seizures calm down over the next several days. Its a good thing I have an amazing team of specialists who are quick on their feet and called in refills of my seizure medications since they now need to increase the dosage. Spring and summer has always been the nightmare time of year for me because light is my seizure trigger along with allergies that my compromised immune system has to endure.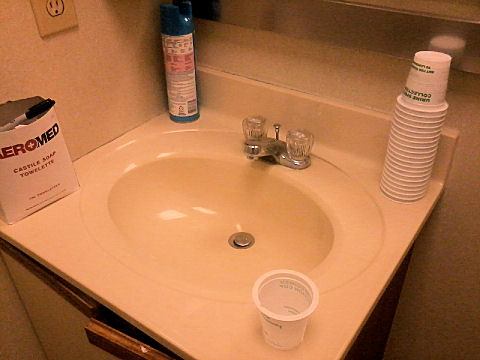 With any bad day there is always a silver lining! My doctor called later this afternoon with my lab work for my kidneys. Luckily I won't have to see another new specialist to add to the current list of 18 and instead I will just have to follow up additional testing with my Nephrologist. My friend also upon getting the mail brought in a package filled with amazing news in the fight for Gastroparesis Awareness. Indeed the Gastroparesis Awareness Campaign Team and GP family should be very proud!
Gastroparesis+Drano aka Hell In A Jug+Relistor+Migraines+Seizures=A Very Bad Day.
Posted by GastroparesisAwarenessCampaignOrg. at 11:59 PM EDT
Updated: May 22, 2012 3:53 AM EDT