Living The Day Through An Hourglass...
Mood:
bright
Now Playing: Day 741-The Final Road To Survival
There are days like today in a GP life that instead of feeling like Cinderella I am literally living life through an hourglass...
I was hoping to wake up a bit earlier today in hopes of getting out to enjoy the day. Instead my cell phone alarm didn't go off and if Littleblue didn't wake me up I might had just slept the entire day. I am due once again for my second injection along with unforeseen side effects in hopes of taking a small break from the ole Drano treatments. Since I will be doing my second injection later this evening its important I try to get out and enjoy the weekend! My friend-Caregiver also needs a break although since the cold weather moved back in last night he is dragging. When it drops almost 30 degrees in less than 24 hours its difficult for anyone to adjust to the drastic changes.
I love cooking but honestly I am getting a bit burned out. How soon I forget I have a crockpot so yesterday I made a huge pot of homemade spaghetti with beans and turkey meat. Its far easier for my friend-Caregiver to just warm up his dinner and take left overs to work. Even this gal who loves cooking finds herself needing a time out every once in awhile. It doesn't take long for me to get ready anymore and since I have lost so much hair its faster to dry and straighten. It takes me only five minutes to do my makeup and less is always more then it was a quick change of clothes and we headed out the door!
Since I was living the day by an hourglass I only had around three hours to go out and have some fun. We headed to a busy but local hot spot where I assume since the weather was rainy and cold everyone had the same idea to stay indoors. We both had a very nice time and speaking of time, it sure flew by! Once we arrived there was only a little over two hours to spare before having to head back home where my second round of medication was waiting for me. The fur kids didn't mind us making it an early night. They are used to having someone home all the time and happily greeted us by the front door.
Its the little things that you far more appreciate when life hands you changes on a constant basis. Two hours to have fun might not seem like a lot of time or worth venturing out to some but to me I cherish any time I can get a break and change of scenery stepping away if only for a moment from my GP life. Round two of self injecting went a little easier although I almost got the needle stuck and the burn that followed shows me it might take a few more tries to get a routine down. If this next dose doesn't work my Pharmacist needs for me to call the advanced pharmaceutical help desk so the drug manufacturer can let me know if its worth me continuing the medication. I am coming close to my next Hell-In-A-Jug treatment in a few days so something will have to give whether it be trying this new drug again or accepting the hard facts that for now the only thing to help keep me from getting into trouble/toxic is the ole Drano.
Holding out for hope but expecting defeat...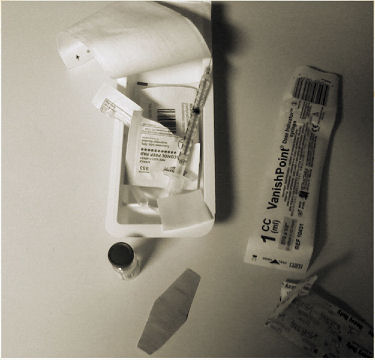 Posted by GastroparesisAwarenessCampaignOrg. at 11:59 PM EDT
Updated: April 22, 2012 3:52 AM EDT