Everyone Can Play Doctor! ;0)
Mood:
special
Now Playing: Day 734-The Final Road To Survival
The old me would have hit the fan once I stepped into my car to only realize the key would turn but the engine would not. Ahhhh...the good ole days when you were young and dumb throwing a hissy fit over the littlest of things. Now much older and wiser than in my hay-day 20's after realizing my car wouldn't start I decided instead of hitting the fan to say, "Oh well. Its just a car. It happens."
WOW! I HAVE COME A VERY LONG WAY!
I made a few phone calls to the dealership to find out when they could possibly tow my vehicle into their shop. Next I made a call to my Dad seeing he retired from General Motors and if you have a problem with your car he can generally can tell you by listening to what is going on with the vehicle the exact problem. I did notice when I tried to turn the key over the interior lights were dim. So were the headlights. Hmmm...I had a good guess but decided to run it by my Dad first. Once he came over we both realized it was my battery which was low however after he took my car up to get the battery tested I didn't realize when a car sits the battery will sooner or later lose charge. The end result: Mr. Hummer needs driven more than two times a week and not sit in the garage so often.
CASE CLOSED.
Since my car needs to run on the road more often and not sleep so much in the garage I had my friend-Caregiver put his car in the garage and leave mine out to be driven. I didn't think we would get out of the house today (me anyways) since it is treatment day but I have laughed and now have come to the conclusion when I mention Drano aka Hell-In-A-Jug on my blog "DRANOARAZZI" comes knocking at my door. Just like the Paparazzi can ruin a celebrities day the "Dranoarazzi" can ruin a Drano day. Hahahahaha!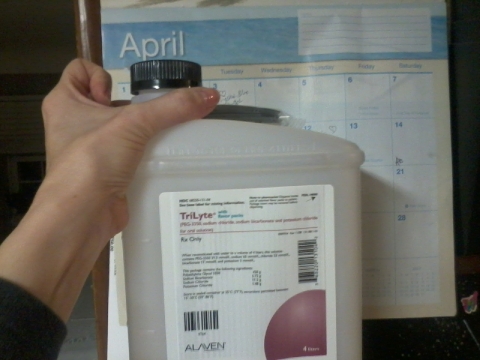 So once again -not like I shouldn't be used to it- treatment day must be pushed back due to unwanted drama and stress. Yes! the "Dranoarazzi" strikes again. One positive note-my car doesn't need a new battery and after my Dad was nice to come over and take a look at it we could at least enjoy the rest of the day. This was of course after the first half of my day was "DRANOARAZZIFIED!" Hahahahahaha!
Now onto the rest of my day...After thinking through everything regarding having more tests done due to complications with my Idiopathic Gastroparesis I have decided to not have more tests. Why? First of all I don't see the point of redoing tests that have been already done unless the end result will be a cure or treatment that works. Since I was told most likely they could not do anything since the issue with my kidneys is due to lack of electricity-nerves to make them function properly I don't see the point of putting myself through more medical stress. Honestly I just need a break and feel I am coming close to turning over a new leaf with my life. After many changes since fall of last year things are looking better in my personal life and I finally see a little light at the end of the tunnel. So I might not see one with my unique medical situation but I am still in a very good place with one word: ACCEPTANCE.
Later once we got back from running errands and enjoying a bit of the rain-free day I realized that everyone at some point in their lives have decided to play doctor without the degree. I have already run into a few of those in the city who have tried to play doctor with a nurses degree. One word: Annoying. After eight years if my team of 17 specialists including a new one recently added to the group-Nephrologist don't know what the heck they are doing then call me "Flo", "Kiss My Grits" and send me back to the diner. Hahahahaha! I just made that last part up but we both laughed and come on! it WAS FUNNY! In all actuality its sad and disturbing when those closest to you don't believe you are sick. It then starts to not only frustrate the person who is on the receiving end of such comments but also the treating doctors who work very hard and put their hearts into the care of their patients. If anyone believes they can do a better job than those who treat Gastroparesis and other connected problems need to wait until they get their degree and specialty before questioning and re-diagnosing someone.
Clearly I am not alone when it comes to this odd behavior seeing there are many, many people who have reached out to me since I started my blog over two years ago regarding family, friends and loved ones who do not believe they are sick. Even more odd its only limited to the conditions that are invisible. Not those that are visible to the naked eye. This includes more than just Gastroparesis but many other invisible chronic conditions. No. Gastroparesis isn't from constipation. Umm....?????-I had someone try to tell me that. Medical terms are given to the public from health care providers as a way to explain to others in terms they can understand. Dysmotility means=paralyzed. It means the intestines do not move. I don't know when we started using Trilyte which is a surgical and colonoscopy prep as a means for occasional constipation. If that is the case then WOW! MOVE OVER MILK OF MAGNESIA AND EX-LAX BECAUSE YOU GOT SOME STRONGGGGGGGG COMPETITION! Trilyte is used in my unique medical condition and situation because after surgery it was found as well on prior tests that my intestines and most of my GI organs no longer work. They do not move. They "look" great but the nerves have died therefore my organs no longer work/function properly. I assume maybe a garden hose might work better but clearly you can't do that so I must force a mixture of nasty ocean tasting stuff on a weekly basis to keep my intestines clear of obstructions. No one asks to be sick. No one surely would ask to drink this foul, nasty stuff but its called "Deal with it, accept it and hopefully it will continue keeping me out of trouble." Anyone who feels my doctors find a joy in making me drink this mixture on a weekly basis needs to re-evaluate their thinking.
So after a strange but typical "Dranoarazzi" day me and my friend-Caregiver finished up the great "Ghost Adventures" season 1 this evening. Its hard to believe its easier to convince people the paranormal exists but invisible medical conditions don't regardless of tests or surgeries that say they do...BOO!!
Posted by GastroparesisAwarenessCampaignOrg. at 11:59 PM EDT
Updated: April 16, 2012 1:06 AM EDT