Mentally Draining Monday...
Mood:
lazy
Now Playing: Day 717-The Final Road To Survival
I sure hope this month passes as quickly as last month! So far my kitchen cabinet keeps growing with post it "TO DO" notes. As soon as I got up today I quickly added three more. YIKES! This might become the dreaded month of April and today is only the 2nd.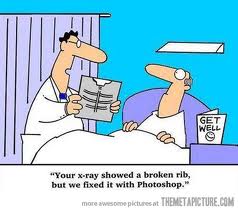 With two specialist appointments lined up this week on top of other things that must get done I am already feeling mentally exhausted. Its one thing to be physically exhausted but a completely different situation having both at the same time. I didn't get much sleep last night due to nerve pain making its way around my left leg. Luckily my Neurologist-Neurosurgeon decided to bump up my appointment so I see him tomorrow. He totally understands the nerve pain I am experiencing but needs to make sure I continue having proper blood flow to my leg. This afternoon I did my best utilizing the crutches and although it did help a bit with the lower spinal pain it also was tiring as heck so I quickly gave up and resorted back to my cane.
Last night we had some wicked storms and once again the summer like temperatures have made their way back. The constant change in season is starting to effect all of us so we decided to have a very lazy evening...My friend-Caregiver's allergies are finally getting to him so he is even utilizing wearing masks outside. The grass grew back in a matter of days so once again it will need to be cut. Masks work great but not 100%. I have a hunch it will be a restless night of sleep for him tomorrow and a very exhausting week for me.
"Man - a creature made at the end of the week's work when God was tired."
Posted by GastroparesisAwarenessCampaignOrg. at 11:59 PM EDT
Updated: April 3, 2012 2:02 AM EDT