DranoDaze...
Mood:
d'oh
Now Playing: Day 675-The Final Road To Survival
I have a Drano hangover from hell. I also didn't get to sleep until 5:15am after two hours of stabbing pain. Seems not only did the Drano aka Hell-In-A-Jug hit me way too late but it also got stuck in my lower intestine. The sharp stabbing pain started around 2:30am. Usually taking a walk helps to move things around and if my intestine is kinked up it will 'usually' help release it but not this time. We got the fur kids on their leashes and headed to the park across the street but once I started walking the pain got worse. Once we made it half way through the park I quickly had to turn right back around because the pain was getting to be off the charts. Its times like these when you must question how much more pain you can take and if its time to head to the emergency room. What I need to get is a stethoscope this way I can hear bowel sounds and find out exactly where they are coming from. Once I got back in the house I did my best to find a comfortable position then placed my hands firmly over the area where the pain was coming from and sure enough the darn Drano was stuck where my colon is fused to other parts of my intestines. I got to a 9 on a scale of 1-10 with the pain and told myself I could handle a 12 then it was time to head up to the hospital. Luckily around 5am after two hours of pain the liquid dynamite was finally able to move through the last part of my intestines and the pain started to ease up enough for me to finally lay down. I didn't get up until 2:30pm but am happy to say I did wake up pain-free. THANK GOODNESS! This next treatment I will be starting earlier!
We are suppose to have a rainy week. Not like we need anymore record rain. What we need is a month to dry out. The fur kids finally got time to play outside in the backyard to release some energy. They also got a few walks. With all the rain they are predicting it means things will soon be a muddy mess again so no more backyard fun time. I am so tired of the rain and so are the gang!
I got a call from my dentist and have the first of three appointments set for Wednesday. Not only do I see two new cavities but he said I had another one yet to be filled since my last visit. Thanks to my hellish treatments it is ruining my teeth and becoming beyond expensive! At this point my teeth are becoming the most the expensive part of my body and that IS SCARY! Maybe I should had false teeth put in a few year ago then I could just leave my dental problems at the dentist's office and pick them up later. Hahahaha!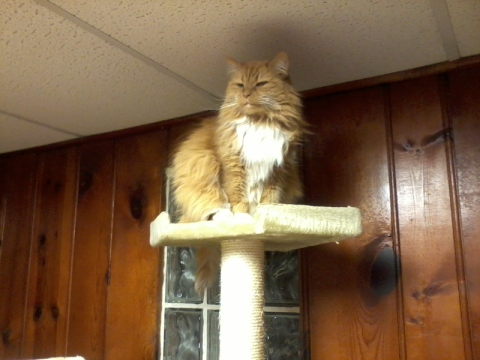 At least the kitty gang don't have to worry about dental problems but with the spring like temperatures they too are starting to shed earlier than expected. Once I get the brush out they like to run as I try to brush them. Most cats love being brushed but I think mine believe its nothing more than playtime. Hahahahaha!
This evening after switching from the Valentine's Day decorations to St. Patrick's Day Littleblue and Oreo finally called it quits and went to bed early. I guess all the nice fresh air got to them. I am hoping for the same. An EARLY evening! Amen!
"You will find as you look back upon your life that the moments when you have really lived are the moments when you have done things in the spirit of love."
Posted by GastroparesisAwarenessCampaignOrg. at 11:11 PM EST
Updated: February 21, 2012 1:36 AM EST