I Am SOOOO Ready To Get Out!
Mood:
d'oh
Now Playing: Day 652-The Final Road To Survival
You know you are ready to get the heck out of the house when you find yourself watching RuPaul's Drag Race Casting Extravaganza show! Hahahaha! Well...at least it makes for some fun entertainment. I think they need a RuPaul channel! Sure beats most of the horrible shows now on television.
Tomorrow is officially this gal's Drano day. Its been far too long and I am starting to feel a bit toxic. This usually means I could end up in some future trouble if I don't watch it and start lining up the ole jug and chaser glass. Honestly I will be more than ready for it come Sunday.
Once me and my friend got up around 2:30pm we thought maybe Pumpkin kitty got ahold of some Drano of his own! WOW! What a MESS! It has to be the medication and for now I will be holding off on it for a few days. Mostly for his sake but also my friend said for his too! Hahahaha! Talking about POO-POO Kitty! He left a mess from one end of the house to another. We were both shocked! This new shampooer machine already paid for itself ten fold!
After cleaning up the last of the mess it took us over two hours. Nothing like waking up to that kind of nightmare. It wasn't too smart of an idea for me to keep bending and stooping because once this evening hit the head pressure started getting the best of me then quickly followed by waves of nausea and vomiting. One step ahead and now two steps back. At least I see my specialist Tuesday and after getting an email regarding my three hospital visits I have a few questions about my tests and cat scan. I realize that sometimes our doctors feel things are best left unsaid in fear that maybe the patient has enough on their plate already to deal with however...I do better 'knowing.' Guess I will find out more come next week at the appointment.
I did my friends taxes today. He was delighted to see he got back from Uncle Sam this year. Although he fell into a higher tax bracket last year I reminded him of the golden rule. "The more you make the more they take." I will be doing a few others taxes over the next three weeks. At least its something to do keeping me busy. I don't mind doing taxes and its nice to learn something new in life that will always come to your advantage later down the road.
Wow! February is less than a week away! Valentine's Day is not too far behind either so that means only one thing: CHOCOLATE! YUMMY! For now I will settle on the beautiful flowers I got this week that make the living room smell like spring. I would rather smell it in flowers than having it early like today's temperatures. Just nuts! One good thing about being stuck at home recovering is I don't have to worry about being out in public catching all the viruses going around. Amen. Littleblue and Oreo are sporting their new Valentine heart bandannas. They are too cute!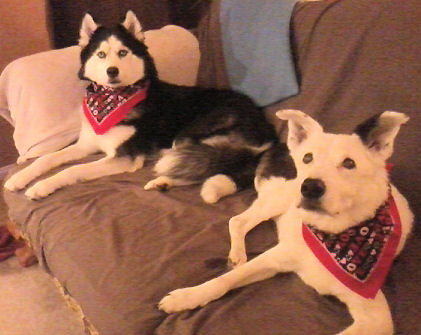 Speaking of CUTE!
I just had to share this photo of little Eliana with Mr. GP Blue-our new 2012 Gastroparesis Awareness Campaign mascot. Eliana is a Idiopathic Gastroparesis patient. Thank you Eliana and thank you to your amazing Mom Andrea for helping to design our new mascot.
KEEP ON! KEEPING ON!
Posted by GastroparesisAwarenessCampaignOrg. at 11:59 PM EST
Updated: January 29, 2012 2:58 AM EST