Don't Speak So Soon!
Mood:
d'oh
Now Playing: Day 555-The Final Road To Survival
So I am bit behind on my blog...I have a very good excuse though seeing if I would had blogged Saturday it would had been a really interesting one and surely a confusing one too!
Maybe I shouldn't had spoken so soon to my Neurologist about being seizure free the past few months because I jinxed myself. Sure, I didn't knock on any wood as I left his office but maybe ran over some pieces of twigs in my driveway once I got home, hahahahaha!
It started off a pretty good day overall and although it was clear my treatment still hasn't completely worked its way through me I am almost ready for my next dose. If their goal is to constantly have this nasty Drano aka Hell-In-A-Jug in my system 24/7 then we are at that point so later in the afternoon once I was on my way out the door instead I was on my way through the bathroom door.
Might as well hook up satellite TV in there since I live there anymore!
My friend arrived around 3pm and we headed up to the local park to walk the trails. The 2nd annual 'United GP Walk' is Sunday, October 23rd however it was such a beautiful, sunny and crisp, cool day why not walk today with friends?
GREAT IDEA!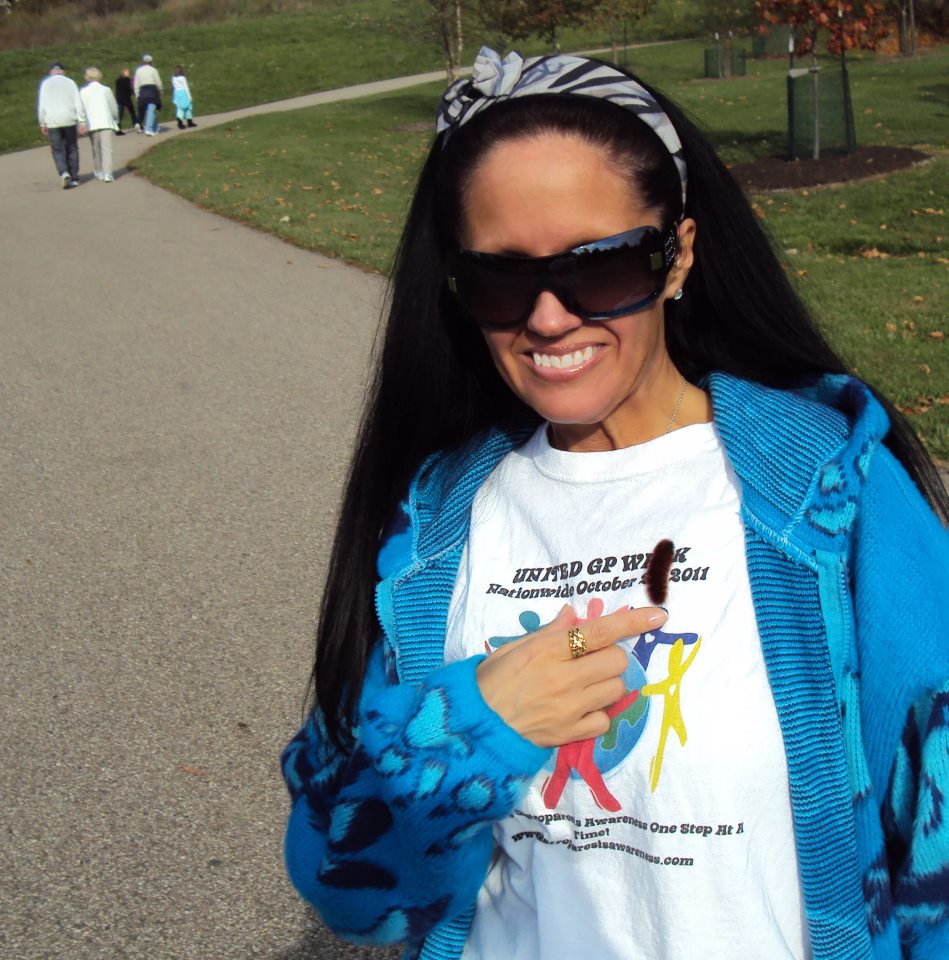 It was not only a great idea but a perfect day too! There are two trails to walk but I had to choose the short trail for obvious GP reasons but we had a very nice time. I even walked right up to two woolly worms, how lucky is that seeing soon they will both turn into two beautiful butterflies! Surely this gal could use some luck in her life. My friend loved the park and trails because its a great way to really take in the fall foliage.
Once we got back to the house I decided to make dinner seeing he hadn't ate anything all day and although I am a pro at a liquid diet it doesn't mean everyone else has to suffer. Right? Right! I made some chili dip, turkey stuffing, mexican rice and some pumpkin cookies.
Yes, a strange combination but he works as a sheriff for the local county and there was enough food left over for him to take to work. The food didn't take too long to prepare but at the same time I started getting horrible head pressure that started in the back of my neck then up the back of my head. OH GEES! I figured here we go with a pop-up migraine! The pressure didn't let up but instead got worse so once I cleaned up the dishes I told my friend I was going to change clothes. I was started to get what I felt was seizure aura along with feeling dizzy and the last thing I remembered was going into my closet to reach for a pair of shorts on the shelf. I leaned forward and that's all she wrote! That's all I remember too until I woke up with my friend talking to me and seeing what I thought was white ribbon candy but instead was my GP white t-shirts hanging in my closet and Precious kitty looking at me.
YIKES!
It seems it wasn't a migraine I was feeling but head pressure from a bad seizure coming on. A quick seizure too because I only had the aura and pressure for about ten minutes before blacking out and going into a seizure. If my friend was not there it would had been bad news! I am lucky they were looking for me in the living room and once they realized I wasn't there started looking for me in the house and found me on the floor in the closet having a seizure. The after affects of having seizures are feeling foggy and is if your just went through an marathon. Your entire body goes into overdrive and your brain gets fuzzy. It took about thirty minutes for him to get me on the couch so I could relax. I had chills, sweats, a headache, ears full of pressure and tremors. Its been awhile since I had a big seizure so I had forgotten just how nasty they can get! So much for speaking so soon to my Neurologist about being seizure-free.
So I made record time going to bed at 11:30pm and waking up at 1:30pm the next day. Let's just say I got my sleep and then some but its good to let your brain and body rest after seizures. I called my physician and surely will be placed back on my seizure medication. Whether it will work or not with doing Drano treatments on a weekly basis who knows seeing it flushes medication right out of you. Maybe this will be the last seizure for quite awhile but better to be safe than sorry.
Wrong weekend to be having head issues since the official day of the 'United GP Walk' is tomorrow but if I can't make it at least I was able to walk today.
Posted by GastroparesisAwarenessCampaignOrg. at 11:59 PM EDT
Updated: October 24, 2011 12:58 AM EDT